A great part of the beauty and lore of The Bahamas is the geography. This same geography is what makes getting there difficult. If you consider the big picture, The Bahamas is a collection of more than 700 islands sitting on top of a plateau just off the east coast of Florida. Below is a rough sketch. The light gray shaded areas of the Little Bahama Bank and the Great Bahama Bank are generally less than 10 feet deep. Dotted around the shallow banks are islands shown in dark gray. Surrounded is the ocean with water thousands of feet deep. This unique geography provides for beautiful cruising conditions.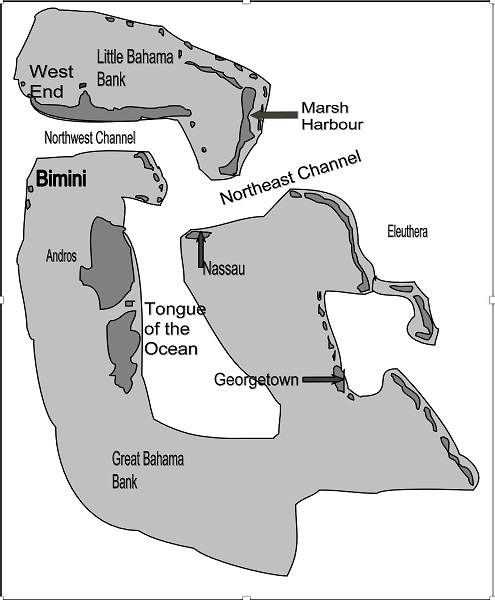 Once you have crossed the Gulf Stream and reached either of the Bahama banks, you are in relatively shallow water. And while it is possible to have 50-foot waves on the ocean, in water 10 feet deep you cannot have 50-foot waves. So the first thing you notice when you enter the Bahama Banks is that no matter how high the waves on the ocean were when you were crossing, they are much smaller on the banks. With a 20-knot north wind and 15-foot seas in the Gulf Stream, you might find only 3-foot waves on the banks. The main point of this is that once you reach The Bahamas, you can move with relative ease in weather conditions in which you would not try to cross the Gulf Stream.
It must be pointed out, however, that moving between the banks can also be more difficult than cruising on the banks. Note that to go from the Little Bahama Bank to the Great Bahama Bank you must cross either the Northwest or Northeast Channels. Since both of these are thousands of feet deep, you can again encounter very large waves. Also when going from Bimini to Nassau you must cross the Tongue of the Ocean, which is thousands of feet deep, and again you may experience very large waves.
One final point about the unique geography of the Bahamas. Because the area of the banks is so large and water on them so shallow, a tremendous volume of water must enter and exit the banks with each tidal cycle. With a tide of about 3 feet and an average depth of only 6 feet on both banks combined, nearly 50 percent of the water is flushed off the banks twice each day. This creates both good and bad results.

The good result is that the flushing action keeps the waters on the Bahama banks very clear. The bad result of all this tidal action is, of course, the tidal currents.
Learn more about cruising to the Bahamas in Skipper Bob: Bahamas Bound, available for purchase in the Ship Store & the Waterway Guide Mobile App.
Are you Bahamas Bound this winter? Purchase a digital subscription of Waterway Guide's Bahamas Edition and download the Waterway Guide Mobile App to keep you informed on your travels.