The 125-mile-long arc of islands that make up the Florida Keys create a unique environment for exploration by land or sea. The Keys are mainly the exposed parts of coral reefs. Some of the islands have been exposed for so long that sand has built up around them and mangrove forests have grown, creating islands, while other smaller islands remain submerged at high tide.
Fishermen, snorkelers and divers have found a tropical paradise among the reefs along the southeastern (ocean side) of the Keys. The northern and northwestern sides offer spectacular kayaking and paddleboarding adventures, while on land the biking and hiking through various hardwood hammocks and mangrove marshlands is exceptional. You can strike out on your own or for those who prefer a more structured plan, backcountry guides, ecotours and captained charter boats are available. Specific suggestions are listed in this section.
Boating in the Keys
Boating in the Keys is a mix of east coast cruising and a visit to the Bahamas all rolled into one. The islands are low-lying and made entirely of coral rock. If you're an experienced cruiser, you know that there aren't many anchorages and holding is poor. On the ocean side of the Keys, the Florida Reef parallels the islands. Hawk Channel, a somewhat protected route inside the reefs, weaves its way from Miami to Key West. The bay side of the islands is made up of Florida Bay, with its endless mud flats and mangrove islands, north of Key Largo. North of the Lower Keys lie the open waters of the Gulf of Mexico.
Most local boats are outboard motor-driven fishing boats with outdrives that allow shallow water cruising. They are the workhorses of the Keys and are equally suitable for dive trips and fishing expeditions. Flat skiffs are popular for bay side trips. You can rent these popular boats from outfitters seen along the highway.
A Word on the Weather
There is a mild tropical climate in the Keys where the average summer and winter temperatures rarely differ more than 10 degrees. The best time to visit is between March and May when it's a blissful 70 to 80 degrees and the winter crowds are smaller. It can get hot (over 90 degrees) during the summer months of July and August and the humidity can make it downright uncomfortable. With the heat comes the no-see-ums and mosquitoes, which can ruin any outdoor activity. (For the uninitiated, a "no-see-um" is a tiny biting insect that bothers some folks more than mosquitoes.)
The water temperature in the Keys is warm enough to swim year-round. The warmest point is in July and August when the average temperature is 87 degrees, and the coolest is in January when it's usually around 70 degrees.
The North Atlantic-Caribbean hurricane season runs June 1 to November 30. August, September and October are the worst months. You should start taking an active interest in weather forecasts when you hear that a tropical depression has developed and follow its progress until it is no longer a threat. In the event of a storm warning or watch, visitors will be asked to evacuate first and will not be allowed into the Keys until the threat has passed, allowing residents to evacuate and then return home safely.
Boat Ramps & Trailer Storage
We expect some readers will be bringing kayaks, paddleboards and small fishing boats to the Keys. If you are bringing your boat by trailer, keep in mind that parking space is at a premium. Many hotels and motels will not allow you to disconnect and leave your boat or empty trailer in their lots, even if you have a room reservation. Be sure to ask when you make your reservations if they have parking space for trailers or can recommended a spot. Some marinas offer trailer storage (for a fee) and there are storage sites where you can rent a parking spot for a boat and/or trailer.
John Pennekamp and Bahia Honda State Parks have very nice boat ramps, and they allow you to park the boat trailer for the day or even longer if the boat is staying in their marinas.
Getting Around
Driving to Key West, you'll note that directions are expressed in "MM" (mile marker) signposts along the highway, which makes it easy to find your destination and figure out how far it is from where you are. Numbering starts in Key West at MM 0 and increases towards the east and northeast up the path of the highway over the Keys. The center of Key Largo is at about MM 100; therefore, it is about 100 miles northeast of Key West.
Businesses along the highway identify their locations by mile markers, adding decimal parts to more precisely indicate locations between mile marker signs. Specific addresses on the Overseas Highway use this system as well: The first two (or three) digits denote the approximate mile marker and remaining digits indicating fractions of a mile. The Florida DOT maintains small rectangular green with white mile marker signs every mile on both sides of the highway.
Locations along the Overseas Highway are also described as "ocean side" or "bay side." The ocean side is the south side of the road (the left-hand side headed southbound), and bay side is the north side of the road (the right-hand side headed south).
Where's the Beach?
Because the Florida Keys are mainly the exposed parts of coral reefs, you won't find the wide, sandy beaches common in the eastern U.S. Nevertheless, most of the state parks offer access to a beach with amenities such as a shaded picnic areas, barbecue stations and public showers. The municipal Sombrero Beach in Marathon has deeper water and a pier in addition to picnic pavilions, volleyball courts, restrooms and showers. It is also wheelchair-accessible. The beaches are mostly sand mixed with small rocks so wear water shoes to protect your feet.
In Key West there are three popular beaches:
Fort Zachary Taylor is best for swimming and is equipped with bathrooms, a snack bar, picnic areas, barbecue grills and beach equipment rentals.

Higgs Beach offers beach volleyball and tennis courts, on-site kayak and paddleboard rentals and a great restaurant (Salute! On the Beach) just across the street.

Smathers Beach is nearly a mile long and is lined with waving coconut palm trees. Food trucks will keep you fed and there are ample restrooms.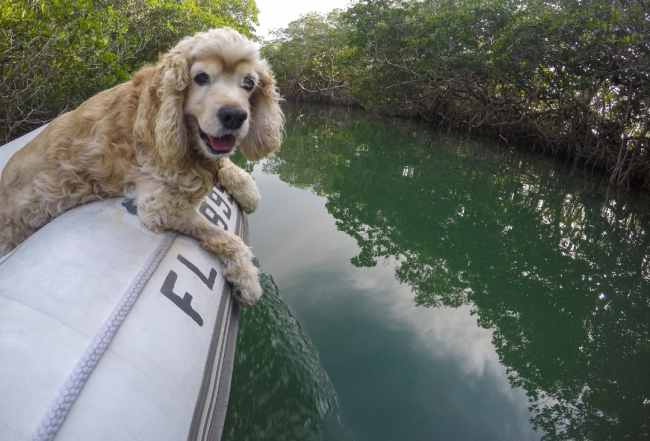 About Your Pet
The Keys are a very pet-friendly destination. Nearly all restaurants with outdoor seating allow pets, as do many of the roadside attractions. There are a few dog-friendly beaches, including Dog Beach and Higgs Beach (both in Key West) where your furry friend can roam unleashed. Higgs Beach has separate places for small and large dogs, and drinking fountains to keep your pup hydrated. Several state parks allow pets including John Pennekamp (on the trails and campground only).
When off the beaten path, pets are not allowed on islands managed by the U.S. Fish and Wildlife Service or the National Park Service in the Florida Keys. This is due to the sensitive nature of the habitat and nesting birds or sea turtles.
For more information on cruising the Florida Keys, purchase a print Waterway Guide Florida Keys Edition or a Waterway Guide Subscription.