Starting out in shorts and boat shoes, the Waterway Guide Media team opened the 2023 Annapolis Powerboat Show on October 5 and then spent the next 11 days in Maryland's capital enjoying all that the city and the boat show organizers offered.
We left at the end of the Annapolis Sailboat Show on Sunday October 15, 2023, bundled up against a blast of cool air that followed a rainy Saturday. But sailors are hardy and enthusiasm was high, especially among vendors selling foul weather gear.
As with all boat shows, our team spent hours talking with visitors to our exhibit about Waterway Guide Media's new publications, mobile apps, information platforms, fun places for cruising, and dreams of new boats and adventures.
We also used the time to see what's going on in the industry. New exhibits and vendors always come to Annapolis, and we met some interesting participants with great products this year. We will leave the boat reviews to our media friends elsewhere. Here are some favorite exhibitors we visited:
Aqua Map has emerged as one of the leading mobile navigation apps worldwide ("tablet navigation" as some describe it) due to excellence in engineering, attention to what boat operators want, and a willingness to integrate new data that is relevant to boating experiences. The three principals of the company conducted a three-hour seminar at the Annapolis Cruisers University that provided a deep dive into their technology, data, and user interfaces. This app is an exciting development for those of us who want additional and trustworthy information beyond our multifunctional displays and chart plotters. Aqua Map is a winner for its cartography, data management, information overlays, and ease of operation. And they are the only mobile navigation app that displays the U.S. Army Corps of Engineers (USACE) surveys of waterways and inlets. They have a free trial offer that you should take advantage of to see if you like the app.
I couldn't get enough when asking for explanations about the Air Dock Boat Lifts. This company is located in Ohio and is engineering and manufacturing some impressive products for the marine industry including fenders and buoys. Their air docks are fascinating and offer a realistic solution to keeping your watercraft high and dry without installing systems that may not accommodate local regulations or your budget. I think they have a good product and are committed to quality, technology, and extraordinary customer service.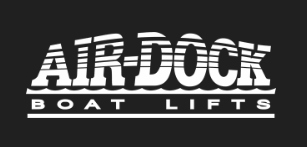 One of the problems with using tablets or mobile devices as charting and navigation resources is interfacing data feeds into the mobile app, including reliable GPS, internet, AIS, and other information from your onboard devices. This company appears to have the answers, based on recommendations of other system engineers at the show. It may be daunting to unravel all the details of today's technologies, but this company can assist. Tablet navigation is maturing, but to get the most out of the displays and operating systems offered in Android and iOS devices, visit their website to see if there's a fit for your system.
I hate a dirty boat. Always have. I was intrigued by this line of products when I walked by the exhibit because the team at the show was genuine in their explanation of how the cleaning products were safe, ecofriendly, and effective. Mold, mildew, grease, salt spray, and generally dirty air are the bane of those of us who want clean boats. I bought a complete line up and can't wait to try them. The little tests I conducted while at the show convinced me to replace my other harsh chemicals with these. From all indications, professional detailers have been using them with success and now Xanigomarine is offering them to the do-it-yourselfers.

Paint was not on the list this year. But as a dedicated DIYer, I'm always looking for how to do my work smarter and better. I've been a fan of Pettit since I first started refurbishing the 1947 Trumpy that was the flagship of Waterway Guide for many years. I wanted enamel on the topsides. Their Z Spar 99 was my go-to until they stopped making it. (Just not enough wooden boats around anymore). And I've always liked Trinidad bottom paint for both my 1981 Tartan 33 and the Trumpy. So, Pettit is a stalwart and venerable brand with a commitment to new formulas and techniques. What I enjoyed was talking with the representatives at the exhibit and learning details, background, and recommendations for different paints and applications. They entertained every question I had, and I had many. Never stop learning.
In a seminar that I conduct titled "Navigating with Today's Technologies," I offer a high level overview of the emerging trends and technologies associated with the transition from paper charts to electronic nautical charts (ENC). Commercial and professional captains and skippers know most of the developments that have transpired over the past ten years. Pleasure and recreational boaters, though, are often bewildered by the choices and evolution of ENCs. It's daunting. Navico Group does an admirable job of creating solid suites of navigation displays, interfaces, software, and cartography. Owned by Brunswick Corporation, their engineering teams work within the company's other brands to arrive at integrated and sophisticated platforms that are scalable and interconnected. The benefit of working with the boat manufacturing teams is that application of the engineering is being carried out in different environments. It seems to be working.

The advantages of attending boat shows are that you are often meeting with and discussing products with the men and women who either manufacture, engineer, or represent their companies' offerings. We are installing a new Type 1 marine head system on our boat this year and when I got to the Raritan exhibit to ask advice, I was met with an expert who answered detailed questions and presented on-site examples of how to connect the systems, what worked best, and options that seem manageable to me as an inveterate DIYer. I have confidence that I can do the job. And now a contact if I get stumped along the way. It's always good to meet with the experts.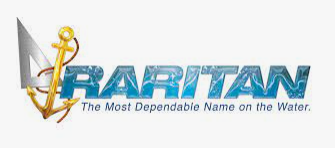 As part of the Cruisers University instructional and seminar team, Deb is dedicated to working with all boaters and skippers to advance their understanding of the details of being on the water. Of special consideration is Deb's course specifically for women. If you've spent any time on a boat, of any kind, it's most likely that you've encountered the gap between how men and women often communicate with each other in any number of activities associated with vessel management. (Don't yell at me!) Deb has created some delightful courses that bring all hands together in understanding the nuances of communications and handling a vessel. We like her style.
Waterway Guide Media rolled out its mobile app updates, new functionality in the online Explorer, and highlighted the work that our teams have conducted the past year creating seamless and integrated displays with our trading partners, including Aqua Map and Explorer Chartbooks for the Bahamas. The shared digital subscription to content across the printed publications and online platforms was well received by those who visited our exhibit, and we continue to upgrade our offerings and content for skippers cruising America's waterways.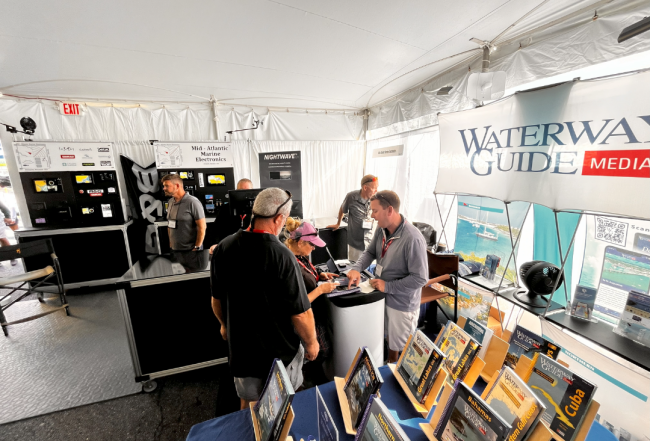 Here's hoping to see you next year at Annapolis.