The standard that establishes dimensions and Work Load Limits (WLL) for shackles is Federal Spec. RR-C-271, often referred to simply as '271'; it also requires that the WLL and size be embossed on the body of the shackle.
If the WLL and size is not embossed, but instead indented into the shackle, or is absent, the shackle was not manufactured to '271' and problems of matching WLLs and fit, particularly with chain, will most likely arise.
Shackles manufactured under '271' are available in a bow (anchor) configuration or 'D' (chain) configuration. Both of these configurations are available as 'carbon' shackles, designed to fit and have WLLs to match Grade 30 chain, and 'alloy' shackles, which are designed to fit and have WLLs to match Grade 43 chain.
'Alloy' shackles and shackles with the 'chain' configuration are often 'order only' items. As 'alloy' shackles should be used with High Test chain, and the chain configuration kinks less than the bow configuration, taking the time to source both is worth the extra effort.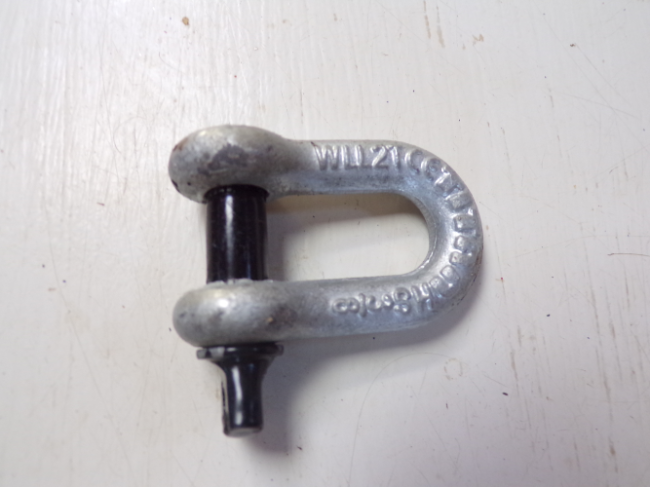 Though shackles are available with a variety of pin types, for ground tackle it is the threaded-pin that is the recommended choice. The threads minimize any opportunity for the ears of the shackle to spread, while the hole in the tab allows the pin to be moused (safety-wired), preventing the pin from backing out.
Though 'alloy' shackles have no special markings, their WLLs will differentiate them from 'carbon' shackles of the same size; however, '271' requires that the tabs on the pins of 'alloy' shackles' be embossed with 'HS' to differentiate them from those used for 'carbon' shackles
There are also stainless steel shackles, some of which will have WLLs suited to Grade 30 chain, but none with WLLs that will equal that of Grade 43 chain. There are duplex stainless steel shackles which can equal the WLLs of 'alloy' shackles, but they are difficult to source, and are generally very pricey.
To minimize rust, or with stainless steel, galling, threads should be kept coated¾grease, petroleum jelly, anhydrous lanolin, Tef-Gel or Lanocote are a few products that can be used, all requiring periodic reapplication.
You can find additional information on shackles and other connectors, as well as for rope, chain, anchors, scope, and a load table, plus much more in ANCHORING-A Ground Tackler's Apprentice by Rudy and Jill Sechez, available at Waterway Guide Ship Store- and now in the Waterway Guide Mobile App!