The Waterway Guide team will be on-site for the Annapolis Sailboat show in Tent A. Please drop by and tell us about your adventures and spend some time learning about our new mobile apps and data platforms.
Over the years, the Annapolis Boat Shows have developed a reputation as an excellent venue to debut boats. This year the Annapolis Sailboat Show (Oct 12-15) will again feature a great selection of premiering boats from manufacturers from around the world.
"There is no better place to search for the perfect vessel for your next adventure than our fall shows," says Sheila Jones, general manager of the Annapolis Boat Shows. "These cutting-edge models are the result of years of research, engineering excellence, and a commitment from our wonderful exhibitors to providing our show guests with the ultimate on-water experience."
The best way to experience your next boat is in-person and on the water, and the Annapolis Boat Shows provide attendees the opportunity to climb aboard hundreds of boats. Small boats, weekend cruisers, performance sailboats, innovative center consoles, multihulls, luxury yachts, and modern monohulls spring from the drawing boards of engineers and designers to line Ego Alley, eagerly awaiting the inspecting eyes of boat lovers and potential new owners.
Now that the powerboat show is over, the powerboats will head south, and the sailboats will take center stage for the Annapolis Sailboat Show, the largest in-water sailboat show in the world. Over 100 sailboats will line the docks October 12 through 15, and hundreds of colorful flags and banners waving from the masts at City Dock, a sight not to be missed.
"The Annapolis Sailboat Show is the most important event that we have in America for sailboats," says Eric LeVine, director of Lagoon USA for Groupe Beneteau. "It's the Super Bowl of sailboat shows, both in terms of the group image and in sales."
Monohulls making their North American debut include Jeanneau Yachts 55, Aventure 37, Dufour 41, Italia Yachts 12.98 and 14.98, Solaris 44, Hanse 510, and Beneteau Oceanis 37.1, and the RS Toura.
One of the biggest draws will be the 50 plus multihulls from 25 different manufacturers ranging from the tiny Guppy to a 66' luxury catamaran. Debuting models include the Bali Catsmart, HH44, Seawind 1170, Fountaine Pajot Aura 51, and Aventura 37. Also making their world premier is the highly anticipated Tao 452, a fast and spacious mid-size performance catamaran that is yacht grade in every respect; and the Xquisite 30 Sportcat that features a mini keel to offer convenience when navigating shallow waters.
Annapolis Sailboat Show - October 12 - 15, 2023
Over the two weekends, over 650 exhibitors are showcasing boats, electronics, engines, boating clubs, sailmakers, charter companies, accessory and equipment providers, foul weather gear, boating clothing, and more. In addition to the impressive boat displays and new products, the fall shows bring a host of educational opportunities, special events, boating celebrities, and marine industry experts. Businesses and restaurants, including the four that open into the Shows, welcome showgoers with open arms.
"It is an exciting time," said Sheila Jones, General Manager of the Annapolis Boat Shows.
"Annapolis is the place to be and experience the best of the boating life in October. We have over 200 manufacturers from 10 countries exhibiting this year. We can't wait for opening day."

Mark your calendar for the Annapolis Sailboat Show (October 12-15 ). Tickets are available for advance purchase on the Annapolis Boat Shows website.
For more information, visit AnnapolisBoatShows.com.
For a complete list and descriptions of the new and premiering boats at the Annapolis Powerboat Show, visit AnnapolisBoatShows.com/PowerboatShow.
For a complete list and descriptions of the new and premiering boats at the Annapolis Sailboat Show, visit AnnapolisBoatShows.com/SailboatShow.
And don't forget the Fort Lauderdale Boat Show (FLIBS)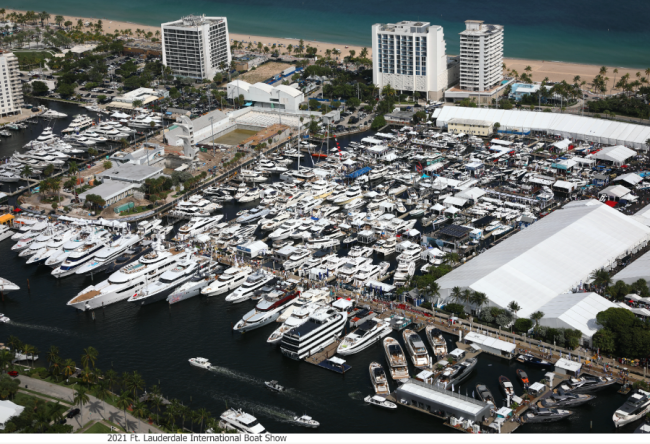 Fort Lauderdale International Boat Show - October 25 - 29, 2023
Owned by the Marine Industries Association of South Florida and Produced by Informa Markets, the Fort Lauderdale International Boat Show Is the Largest In-Water Boat Show in the World.
Located steps from the beach in sunny South Florida, FLIBS spans nearly 90 acres across three million square feet of exhibit space that is connected by an intricate network of water and ground transportation services. In 2022, the five-day show attracted over 100,000 attendees and 1,000 exhibitors representing 52 countries with more than 1,300 boats on display.
Learn more about this phenomenal boat show and purchase your tickets for 2023 at https://www.flibs.com/.