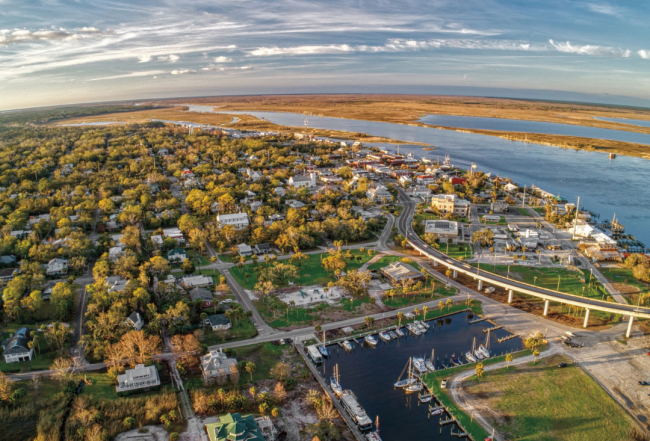 For the cruising boat that reaches St. Georges Sound (and has a vertical clearance of less than 48 feet) it is difficult to recommend an offshore passage to Pensacola. The GIWW distance from Mile 375 EHL to Mile 180 in Pensacola Bay is 195 statute miles through an enjoyable, low-stress section of the GIWW.
The more interesting GIWW route connects big bays and sounds that are protected by narrow, wooded barrier islands. From Carrabelle to Pensacola there are 200 statute miles of inside cruising with occasional passes to the Gulf of Mexico. Actual fixed bridge heights down to 48 feet (as indicated by clearance boards) at the Dupont (US 98) Bridge (Mile 295.4 EHL), the Brooks Memorial Bridge (Mile 223.1 EHL) and the Navarre Beach Causeway (CR 399) Bridge (Mile 206.7 EHL) will prevent most sailboats from using some of the inside route.
Along the panhandle of Florida a rather unique change occurs to tides. West of St. George Sound/Apalachicola Bay, there are only two tides per 24 hours (one high and one low, called diurnal tides), while east of this demarcation the tides are the normal four per 24 hours (two highs and two lows). Very few places on the planet can claim this distinction.
Gulf Island National Seashore
The islands located offshore on the Gulf of Mexico from Biloxi, MS (GIWW mile 73.0 EHL) to Destin, FL (GIWW mile 227.5 EHL) are part of the Gulf Islands National Seashore. There are beautiful white beaches, coastal marshes, and thick forests. You can explore 19th century forts, enjoy shaded picnic areas, and hike on nature trails. Many cruisers enjoy exploring these islands and associated beaches.
The National Park Service controls entrance to these areas and certain rules apply. An "entrance pass" is required at most visitor sites and historic displays. The Gulf Island 7-day pass is $15 per person (fall 2022). The National Park and Federal Recreation Lands Pass is also recognized. We recommend that you check the website for the most current pricing/specials.
Have a wonderful time while ashore but keep the following rules in mind:
No glass containers of any kind are allowed ashore.
Many areas are closed to pets. If so indicated, do not take your pet ashore.
Where pets are allowed, they must be on a leash and you must clean up after them.
You are not permitted to walk on the dunes in some areas and other areas have limited access due to nesting birds.
Fishing (with the proper license) is generally acceptable.
Fires are allowed on most (not all) beaches 5' above the high tide line using driftwood. You must extinguish your fire with water and bury the ashes under at least 6" of sand prior to leaving.
The rules may seem strict but they are in place to preserve a true national treasure. Help us all by obeying the rules and paying for your entrance pass.
Offshore Route: East Pass to Pensacola
The offshore passage from East Pass must go around the shoals that extend from Cape St. George and Cape San Blas. The offshore distance from Mile 375 EHL to the entrance at Pensacola Bay is 158 nm. From the flashing red "2" at the end of East Pass set a course of about 230° magnetic for 25 nm to avoid the shoals at Cape St. George and Cape San Blas. Then set a course of about 295° magnetic for 130 nm (for a total distance of 155 nm) to Pensacola.
There are two inlets that will allow you to break the trip into two days to enjoy this part of the Emerald Coast. The well-marked inlet at St. Andrews Bay is 80 nm from East Pass. The channel at Destin is 120 nm from East Pass and is passable but not as well marked. It has a controlling depth of 6 feet MLW and a width of 50 feet. From this channel you can reach marine facilities before the fixed William T. Marler (US 98/SR 30) Bridge with 49-foot vertical clearance, which crosses the pass.
An alternate (and recommended) offshore route is to enter St. George Sound at East Pass and proceed 52 (statute) miles along the GIWW to Port St. Joe. To reach Port St. Joe turn to the southwest at Mile 328 EHL at the Gulf County Canal. (There are signs at this intersection.) The offshore run from Port St. Joe to the entrance at Pensacola Bay is 100 nm on a course of 283° magnetic.

For more information on navigating the Florida Panhandle and other areas of the Gulf Coast, purchase a print Waterway Guide Gulf Coast Edition or a Waterway Guide Subscription.