Note: Bob Sherer (Bob423) is a contributing editor who posts navigation alerts across Waterway Guide's various platforms. Noted for his work in staying up-to-date on the more difficult sections of the Atlantic Intracoastal Waterway (AICW) and developing suggested routes that can be imported into various apps employing Electronic Navigational Charts (ENCs), Bob is devoted to finding solutions and offering suggestions to those navigating with today's technologies.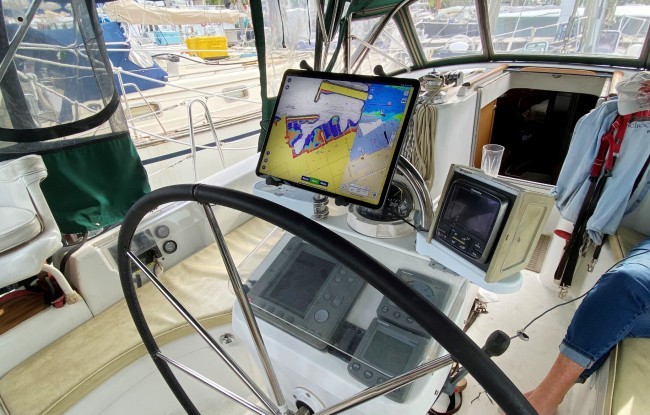 The iPad Pro 12.9 with the M1 chip is the only navigation device I've used for the past two years while on my trips up and down the AICW. My chart plotter is old and obsolete and with the iPad Pro running my favorite mobile apps I have no need for it.
The iPad is at the helm while I'm underway displaying a split screen view that serves up the information I want from Aqua Map and Navionics SonarChart. A Vesper XB-8000 feeds the GPS, AIS and NMEA signals over WiFi. That's a lot of work for a central processing unit (CPU) to manage but the iPad's M1 chip is powerful and handles it well. Here's a rundown of the advantages and disadvantages of this configuration:
Disadvantages
1) The iPad Pro is not waterproof. For me that's not a problem because I use it in the enclosure of my cockpit, which is dry.
2) Maximum screen brightness at 600 nits is not as bright as some chart plotters, which reach 1000-1500 nits. But under my boat's enclosure, it's plenty bright.
3) Running two navigation apps in parallel with AIS and NMEA along with constant refreshing of the screen as your boat moves along will keep the CPU running at a higher rate than any other app combination. The processor never gets a chance to rest. The power requirements are high with both CPU demand and maximum screen brightness. My solution is to keep the iPad Pro plugged in with a high power 12v plug such as the Nekteck Type C Car Charger. It's the only charger I've used that increases the charge on my iPad Pro while running two apps in parallel at maximum screen brightness.
4) If the cockpit is hot and the Pad Pro warms up too much it will respond by dimming the screen to assist itself in cooling the unit. This can be overcome by a two-pronged approach:
- Use a mount for the iPad Pro that allows air to reach the back of the iPad. Some mounts have a flush fit that prevents direct air contact with the back of the unit. RAM X mounts allow direct air contact. Place the iPad Pro in the mount but slide the iPad towards you so there's an airflow gap between the back of the mount and the iPad.
- Airflow alone may not be enough on very hot days. I've added a small fan directed at the back of the iPad. A USB fan will also suffice. With this arrangement, the screen never dims, even on hot days, but the screen must remain out of direct sunlight.
5) With the WiFi connection occupied by a Vesper XB-8000 for AIS and NMEA, how do you connect to the internet if you want to see a satellite view before entering a marina, to get a weather bulletin or weather radar, or to use the share option for your position? You can use a separate device of course but it can also be done on the same iPad Pro in two ways:
- Have your iPad Pro connected to your cellular provider. Verizon charges me $12.50 per month with my plan and comes with 30 GB hotspot and 50 GB data. The WiFi is still connected to the Vesper, but you're also connected to the internet via cellular. The two connections coexist seamlessly.
- Another option is to use Bluetooth on the iPad to connect to Bluetooth on another device that has cellular. This is somewhat less stable, but it works.
Advantages
1) The display is higher resolution than any chart plotter, which is easy on the eyes.
2) The costs of the charts in the mobile apps are trivial compared to charts for any chart plotter.
3) Charts updates are included in the costs of the charts. In some cases, updates are weekly, but at least four times a year.
4) With Aqua Map you get U.S. Army Corps of Engineers (USACE) surveys, Coast Guard data buoys, and Local Notices to Mariners - all updated as issued real-time by each agency. Chart plotters are not offering that level or detail or information.
5) Navionics comes with the SonarChart option, which is updated daily.
6) Waterway Guide data is available in the Aqua Map app. That data is presented with icons as overlays that show thousands of points of interest including Navigation Alerts, Bridge and Lock Schedules, Anchorages, Fuel Prices, Marinas and Service Facilities, along with reviews by other boaters. Chart plotters, likewise, are not offering this data.
7) AIS and the use of an external GPS is available in both Aqua Map and Navionics when the Vesper XB-8000 or equivalent device is installed. Additionally, Aqua Map will record depths into your track for review.
For me the advantages greatly outweigh the disadvantages. By running Aqua Map and Navionics mobile apps side-by-side, I get the best of both on a powerful iPad Pro with a superb display and up-to-date information, delivered economically. Skippers and captains make their own decisions and use the resources they find most appropriate for their navigation needs. But with advancements in mobile platforms and mobile navigation apps, my time spent at the helm is becoming less stressful and my navigating more accurate.
Note: A screen capture of the iPad Pro 12.9 is shown below. Both ENCs show shoaling ahead and how to avoid it, although the USACE survey on the Aqua Map chart is more accurate. Note that colors for water depths in Navionics have been set to complement USACE surveys.
The display is not a truly functional split screen on the iPad. Apple calls it Slide Over. Aqua Map supports split-screen, as do most apps for the iPad, where each app can occupy 1/2 of the screen real estate. Navionics does not support split-screen.
Please let us know what you're using and add your own experiences in the comments below.