At 35 miles long and up to 8 miles wide Biscayne Bay ranks as one of North America's great inland waters. Over its great size the bay also undergoes great variation of scenery, color and development. While not shown on charts, the bay is generally divided into three distinct segments: North, Central and South.
North Biscayne Bay stretches from Bakers Haulover (North Miami Beach) Inlet to Government Cut (Miami) Inlet, the main entrance to the Port of Miami. This segment starts very narrow adjacent to North Miami and gradually widens as it fills the gap between Miami Beach's barrier islands and the mainland. The appearance changes as well. The murky green water and mud bottom of its upper reaches gradually change to a turquoise color with a sandy bottom farther south, just as low-rise development gives way to high-rise on its shores. This segment provides access to Miami Beach, which is a worthy side trip.
Miami Beach
This short diversion from the ICW takes you along the western shore of Miami Beach by way of the Miami Beach Channel and eventually rejoins the ICW at the Julia Tuttle Causeway Bridge. Whether you take the ICW or the Miami Beach Channel to Miami Beach be sure to allow ample time for sight-seeing once you get there. If you travel with a pet aboard, you will find that virtually all the sidewalk restaurants here are extremely pet friendly. The resort potential of Miami Beach's beautiful 9-mile oceanfront was recognized early on. After filling wetlands and taming the barrier island's mangroves, Miami Beach's first hotel was built in 1915, the same year the city was incorporated.
Essentially a creation of the tourism industry, Miami Beach and its islands are mostly man-made and were literally "made for tourists." Today its hip, vibrant image thrives in the Art Deco District with numerous hotels and acclaimed restaurants, as well as the trendy South Beach area. So many people in the entertainment industry have moved here that it has been dubbed "Hollywood East" including the exclusive neighborhood of Indian Creek Village (on Indian Creek Island), home to Miami Beach's rich and famous.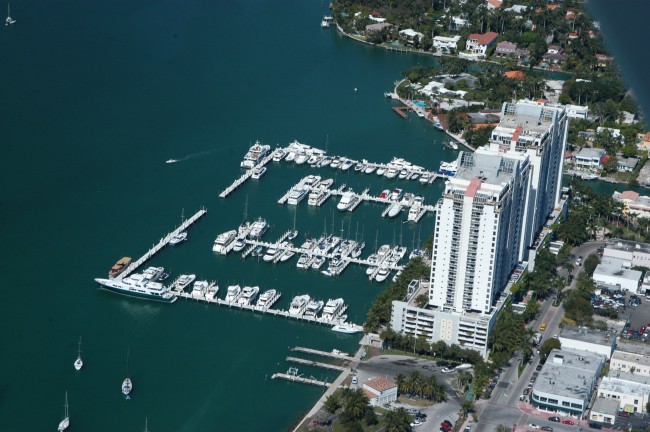 Dockage
In Miami Beach you will find many excellent, upscale marinas with substantial amenities alongside less fancy but somewhat more economical ones. All are convenient to provisioning options, fine dining and shopping.
The Miami Beach Channel leads directly to Sunset Harbour Yacht Club on Biscayne Bay, which offers slips for long-term lease or sale and offers non-members use of available slips on a transient basis. This full-service marina accommodates vessels from 45 to 200-plus feet. Be sure to call ahead to check availability. The 16-slip Bentley Bay Marina is just north of the MacArthur Causeway Bridges (East) with transient slips for vessels to 65 feet.
Farther south on Meloy Channel (the southern end of Miami Beach Channel), just opposite the Coast Guard base, the 400-slip Miami Beach Marina can accommodate vessels up to 250 feet. They also have a professional service team for repair, maintenance and restoration. One Island Park—Miami Beach (IGY) is located adjacent to the Coast Guard station. The smallest yacht that is permitted to dock is 100 feet (with 800 feet being the largest) in their eight superyacht berths. Crew activities and fitness classes, transportation to a local market and complimentary use of bicycles are among the amenities.
To learn more about navigating Florida, purchase the Waterway Guide Southern 2023 edition or a Print + Digital Subscription.