As part of the Coastal Virginia Offshore Wind Project's ongoing survey for the placement of wind turbines and cables, an unexploded ordinance survey is now underway in the waters off Virginia Beach, VA.
*Update to MSIB 291-22* The UXO survey within the export cable corridor (Areas A & B) are complete. From January 5, 2023 - January 30, 2023, UXO surveys will be occurring within a portion of the CVOW-C lease (Area C), approximately 30 miles east of Cape Henry, bounded by the following:
•Western Boundary 75° 21.4'W •Northern Boundary 37° 00.7'N
•Eastern Boundary 75° 12.0'W •Southern Boundary 36° 51.0'N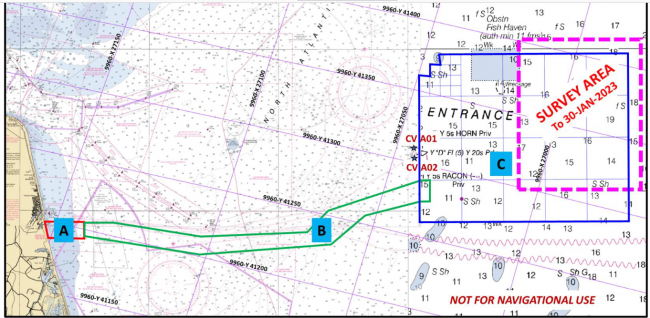 The research vessels conducting the surveys are the R/V MINERVA UNO and the R/V SHEARWATER. Vessels are requested to avoid anchoring in the identified survey area bounded by the coordinates listed above. Additionally, fishing vessels deploying fixed fishing gear are requested to coordinate activities with the Fisheries Liaison. In all cases, mariners are requested to maintain a 0.5 NM clearance from the research vessels and their equipment.
Please see the attached document for further information and/or visit CVOW Mariner Updates here.
If you have any questions related to the aforementioned bulletin, please contact the United States Coast Guard Sector Virginia Waterways Management Division by email at [email protected].