Savvy Navvy, the boating app that brings all essential marine information together in one place. Featuring global charts, wind and weather forecasts, tidal graphs, GPS Tracking, automatic weather routing, and marina and anchorage information. It's like Google Maps for boats.
Inspired to get on the water? Start your free trial today.
About savvy navvy
Simplifying boating technology has always been the aim of savvy navvy, founded by lifelong sailor and ex Googler Jelte Liebrand. He was baffled at the amount of data sources you needed to get a clear picture of where you were, what the tide was doing, what weather to expect, how to plot your course to steer and how to find a good anchorage or marina and then how to share your plans with your buddies and family. He focused on tech that is already in the hands of most boaters. So, turning a phone or tablet into your boating buddy seemed like an obvious next step. In less than five years, savvy navvy has attracted global users from all over the world all using the app to help their boating experience.
Today savvy navvy is available on Android, IOS, PC and Mac and can be used on an unlimited number of devices simultaneously. It is charts, weather, tide, marina details and passage planning with full tidal vectors - all in one place.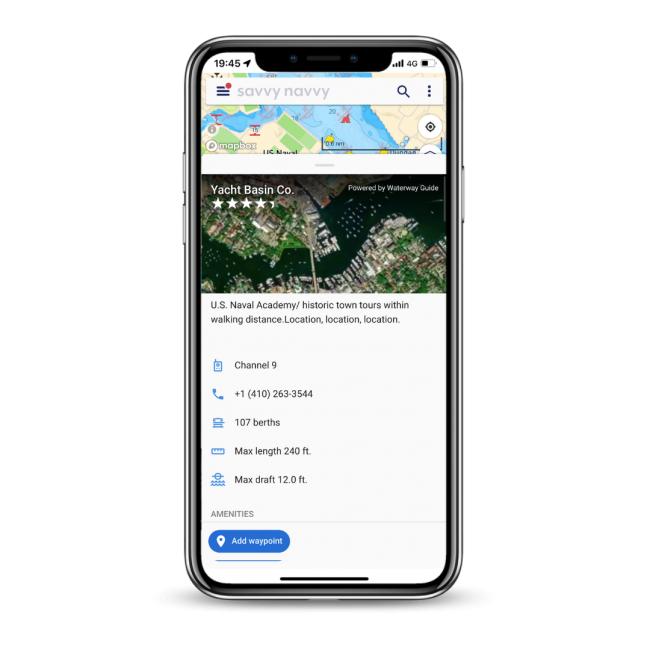 Functionalities of the all-in-one navigation app includes weather forecasts:
automatic route planning with savvy routing

™

boat ramp information, ideal for

anyone looking to launch their trailer boat

savvy navvy's market-leading departure scheduler, which enables boaters at a glance to see the best time to depart based on their route, wind and tidal conditions
Ability to record your GPS tracks
Anchor alarm
Multiple satellite view options
Night view
And much more
savvy navvy's 'premium' option includes global maps and enhanced access to other new integrated features such as tidal information, anchor alarms, satellite overlays, offline charts and greater planning functionalities for just $69.99 a year.
Find out more on www.savvy-navvy.com
About Waterway Guide Since 1947 Waterway Guide has been America's most trusted and respected resource for boaters. From the Great Lakes through the Bahamas and Cuba, Waterway Guide Media now prints 20 publications, including the Skipper Bob series. Over the past decade that dependable information has been made available across multiple platforms including Waterway Explorer (waterwayguide.com), the Waterway Guide Mobile App, digital subscriptions, and points of interest overlaid on charts and third-party applications. Navigation advice, dockage, anchorages, marinas, fuel prices, bridge and lock schedules, Goin' Ashore information and related data are distributed worldwide. Visit WaterwayGuide.com for more information.