Editor's Note: Captain Hugh and Julie Covert, new additions to the Waterway Guide Media team of Cruising Editors, are on a nine-month goodwill tour through the Great Lakes to the Eastern Seaboard, south to Florida, and back. Check back for regular installments of their saga and the amazing story of Schooner Huron Jewel as they sail from port to port to inspire others to live their dreams. They are currently on the Great Lakes and will begin their journey south into the Chesapeake Bay and down the AICW this Fall.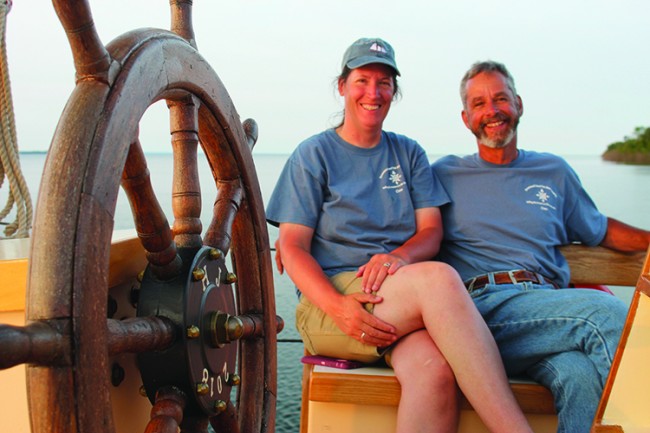 Welcome aboard the Dream Inspiration Tour where Hugh and Julie Covert are sailing to inspire others to do what it takes to make their dreams a reality. You can come along for the adventure by reading about it, meeting them at stops along the way, or even joining them as a deckhand to learn the ropes of tall ship sailing.
It all began with a 2010 New Year's Eve conversation between newlyweds Hugh and Julie Covert, about bucket list dreams. That led to building Schooner Huron Jewel.
"If you don't name your dream it will never happen," Julie said. "What do you want to do in life?"
Sailing and building since he was four years old, Hugh Covert, a tall ship captain, dreamed for decades about building his own schooner.
Together the Coverts designed and built Schooner Huron Jewel, a 78 ft gaff-rigged schooner that was launched in 2018. Boats number seven and eight, Gypsy Meltdown, a 40-foot New Haven Sharpie and Ishtar, a 20-foot scow are still in the family.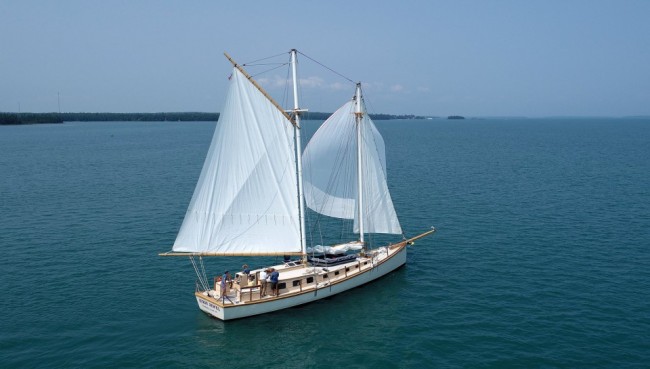 In 2015 he started designing the optimal sailboat for the incredible sailing waters of the Great Lakes and Drummond Island, located on the eastern end of Michigan's Upper Peninsula where the Coverts live—a shallow-draft, 78-foot, two-masted centerboard schooner.
To make it happen, Capt. Hugh quit his job and they emptied out their bank accounts and retirement accounts and scrounged for two nickels to rub together. Many perceived the Covert's dream as a monumental project that might never be accomplished. Driven to make their dream a reality, Capt.
Hugh and Julie worked almost seven days a week for two-and-a-half years straight, with the help of over fifty volunteers many who have become dear friends.
In June 2018 they launched and christened Schooner Huron Jewel, Capt. Hugh's ninth and largest boat. They now offer public daysails and overnight trips aboard her.
"If you stand around and just talk about what you want to achieve it will never get done," Capt. Hugh said. "You have to actually do it. You have to make it happen and there's no time better than the present."
Unable to do public trips in 2020, the Coverts and their crew instead sailed the Great Lakes bringing the schooner to people's backyards and encouraging people to follow their dreams.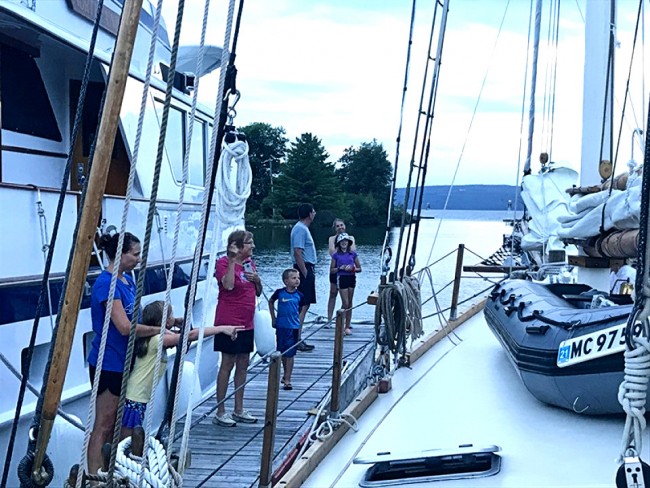 Seeing all the smiles on people's faces they realized they were making a difference – bringing joy and inspiration during a challenging time.
The coronavirus pandemic slowed the pace of life for many people, giving them time to reflect on what is important. Recognizing this and wanting to encourage people to name their dream, follow their dream, and make it happen, Capt. Hugh, Julie, and their crew, will take a nine-month voyage, beginning in mid-August 2022. They will sail from their homeport of Drummond Island, MI through the Great Lakes to the St. Lawrence Seaway, south along the eastern seaboard to participate in the Great Chesapeake Bay Schooner Race.
They'll then continue south for the winter spreading their message and head home in Spring 2023. On their Dream Inspiration Tour of over 7,500 nautical miles they will tell their story to thousands of people to inspire them that when you name your dream and follow it you can make it happen, just as they did, as exemplified by their company's motto of "Sailing the Dream."
Sometimes the dream includes performing weddings aboard. They blow the conch shell, fire the cannon, hoist the sails and turn the helm over to the newly joined couple to take their first journey together.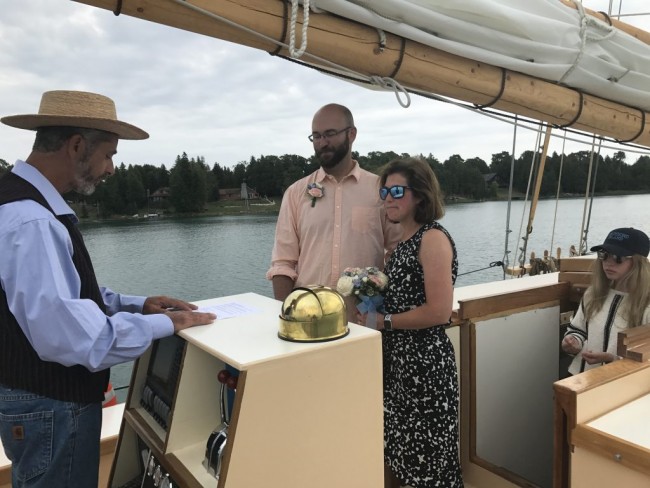 Keep track of where they are and where they're headed next following here at Waterway Guide and on Facebook and Instragram @ditallship. Their stories can be found on their website at www.ditallship.com
They love it when fans send photos of them or post them to social media by tagging: @ditallship, #ditallship and #huronjewel.
See them in person at the following stops along the way down or back:
Alpena, MI
Tawas, MI
Pt Huron, MI
Algonac, MI – Algonac-Clay Township Historical Society Aug. 22, 2022
Detroit, MI
Put in Bay, OH (Spring '23)
Cleveland, OH – Aug. 24, '22
Oswego, NY – Aug. 28, '22
St Lawrence River/ Thousand Islands
Kingston, Ontario
Montreal, Quebec (Spring '23)
Quebec City, Quebec – Sept. 4, '22
Lunenburg, Nova Scotia – Sept. 15, '22
Eastport, ME
Machiasport, ME – Sept. 19, '22
Camden, ME – Sept. 24, '22
Portsmouth, NH
Mystic, CT
Delaware Bay, DE
Baltimore, MD – see us at the Great Chesapeake Bay Schooner Race
Norlfolk, VA – Oct. 10, '22
Beaufort, NC
Charleston, SC
Hilton Head, SC
Savannah, GA
Brunswick, GA – marine research station -Nov. 20, '22
Stuart, FL
Ft Lauderdale, FL
Miami, FL
Key West, FL
Marcos Island, FL
Ft Myers, FL
Tarpon Springs, FL
Everglades, FL
Dry Tortugas, FL
Bahamas
They enjoy any opportunity to be out on the water, especially if it involves sailing. When not sailing they enjoy hiking, bird watching, woodworking, and reading. The Coverts live off-the-grid on a remote 40-acre island off of Drummond Island in the Upper Peninsula of Michigan on northern Lake Huron.
Covert Information
Captain Hugh Covert has been sailing for over four decades and is also a seasoned boatbuilder. He holds a USCG 500 Ton Near Coastal Masters license and has helmed a variety of vessels from tugboats and fishing boats to brigantines and tall-masted schooners. His travels have taken him from the St. Lawrence Seaway, the Midwest river system to the waters of the Canadian North Channel, Georgian Bay, Pacific coast and Bahama Islands.
Julie McKay Covert, a native Philadelphia, PA is currently obtaining her OUPV license. Julie also owns and publishes the Drummond Island Digest, a monthly newspaper that serves Michigan's Eastern Upper Peninsula. She's a talented photographer, author, instructor, and retired therapeutic bodyworker.