Lake Michigan is 307 miles long, up to 118 miles wide and with a surface area of 22,300 square miles of clear, cool, deep water. There are about 50 larger harbors, and an equal number of smaller ports, providing the boater with plenty of options for extended cruising over many seasons. It doesn't matter what kind of port fires your imagination—fishing, festivals, sports, history, shopping, urban cities—they are all here. Many cruisers with only a few weeks to explore this lake target the Michigan coast, with its bluffs, beaches and inland lakes, but there's even more on the "other coast," the shores of Wisconsin and Illinois, with plenty of reasons to include the west coast in your cruise plan. Given a few weeks or so, consider visiting Harbor Springs, Charlevoix and Leland then from Frankfort, Manistee or Ludington, chart a lake crossing to Wisconsin and sample the west coast. With an extended plan, include harbors in Sturgeon Bay, Green Bay and Door County, as these ports are among the most interesting, but for this article, we'll focus on the best harbors along the east coast of Wisconsin.
Anchoring is generally possible, but not ideal inside the main harbor breakwaters, as any wind from the east and, of course, local boat traffic will disturb calm waters. Fortunately, the marinas are reasonably priced, have plenty of water depth and offer floating docks; check those factors when you make reservations, which are advised in peak season and especially during festivals. There are no inland lakes for shelter along this coast. Staying about 1 mile offshore is safe for most of the coast, but review your charts for hazards like the Racine Reef, which extends from one to two miles from shore. Statistically, prevailing winds are usually from the west, allowing calm passage, especially when compared to the choppier conditions on the east side of the lake. Here are some ports where you may want to tie up for a while.
Manitowoc, WI The Wisconsin Maritime Museum is the star attraction in Manitowoc, the best maritime museum in the Great Lakes. Affiliated with the Smithsonian Institution, this museum focuses on the shipbuilding and maritime heritage of this heavy manufacturing city. The stories of Manitowoc Shipbuilding Company, Palmer Johnson, Burger Boats and others are told here, in the city where 28 submarines, plus PT boats and other craft were built for the U.S. Navy in WWII; 133 enemy ships were sunk by those subs, while four are still "on eternal patrol." Tour the USS Cobia, a Gato class sub, boasting the most complete restoration of any that served in WWII. The engines are still started regularly, and the radar is the oldest working radar unit in the world. You may even be able to spend an educational "Night in the Museum," sleeping aboard the Cobia; contact the museum early for dates. Take a dinghy ride upriver about a mile or so, the Burger Boat Company may be prepping one of their custom yachts up to 150 feet for delivery.
While in town, look for a great steak at award-winning Harborside Restaurant on York St., one block from the museum. Beerntsen's Confectionary, an old-time hand-made candy store also serves sundaes. Provision with fresh produce on Tuesdays and Saturdays at the Farmers' Market in front of the library. A nice, sandy beach is north of the marina; enjoy the clear, but cool Lake Michigan water.
Manitowoc Marina has floating docks, fuel, a nice marina shower facility with lounge and laundry. The marina has a full chandlery, mechanical and yacht restoration services and Midwest Trawlers is located on the docks at the marina. You can anchor within the breakwater on the north side but avoid that if the wind has an easterly component. Keep in mind that the 1951 coal-fired Badger ferry uses this harbor, as well as other pleasure craft and commercial boats.
Port Washington, WI A delightful small town with a busy harbor, you will find plenty of reason to stay a few days in Port Washington. Restaurants include the Port Hotel, serving prime rib for decades, Sir James Pub with the largest selection of craft beer in the Milwaukee area and the Chocolate Chisel, serving rich locally farm made ice cream as well as home-made chocolate candies. Ewig Brother's Smokehouse has been offering various Lake Michigan smoked fish for three generations. There are other gems such as this all within a few blocks of the floating dock marina, so explore! Climb the 100 steps north of the marina to the Port Washington Lighthouse that is also a museum depicting life in this coastal town over 100 years ago.
Several major festivals define this harbor, especially Port Fish Day, billed as the world's largest one-day fish fry with 40,000 fish and chip dinners served for the benefit of local service clubs. Other activities that day include a 5k run, huge parade, five band stages, amusements, classic car and craft shows; ending the day with spectacular fireworks. No wonder Coastal Living and Yachting magazines both named this port among the top destinations in the US.
Port Washington Marina welcomes transients with excellent services and dockage on floating slips. If the 50-mile trip from Manitowoc is too long a day for you, plan a stop in Sheboygan, where you will find Harbor Centre Marina, a luxury facility with pool and spa and modern floating docks, and a town with a pleasant Riverwalk and nice downtown.
Milwaukee A great city always has plenty to offer, but when that city seems more like a collection of neighborhoods clustered around a bustling downtown, embracing a huge protected harbor, that city is even better! Your introduction entering the outer harbor brings you into a 2.5-mile-long boaters' playground, where sailboats and power boats play when the lake itself is kicking up. Within the outer harbor is an inner harbor, Lakeshore State Park, an anchorage and marina where cruisers and boaters can tie up for a short time to visit Discovery World, an interactive Museum and where the 137-foot replica four-master Denis Sullivan is docked. The Milwaukee Art Museum, noted by its moveable bird-shaped roof designed by Santiago Calatrava, is close by.
However you want to spend your time, you will find it in Milwaukee. The Brewers play at Miller Park; an afternoon can be well spent at the Harley-Davidson Museum or learning about brewing beer at the Miller Valley, where you can taste a few after the tour. There's an ethnic festival at Maier Festival Park almost every weekend all season long; Summerfest in late June is the Worlds' Largest Music Festival with 11 stages. The neighborhood northwest of Maier Park is known as the "Third Ward," a trendy place to find an eclectic variety of dining and tavern options.
The 655-slip McKinley Marina at the north end of the outer harbor has modern floating docks and excellent facilities for transients. Smaller facilities in the area include South Shore Yacht Club and Lakeshore State Park Marina (For a full listing, refer to the Great Lakes edition of the Waterway Guide). Be sure to call ahead for a reservation, especially when there is a festival. A healthy 1.5-mile walk will take you to Maier Park. A dinghy or smaller boat ride up the Milwaukee River a short way finds Riverwalk, complete with riverfront restaurants and short-term docks to tie up while you have dinner. A fine, sandy beach north of McKinley is the perfect way to cool off on a hot summer day.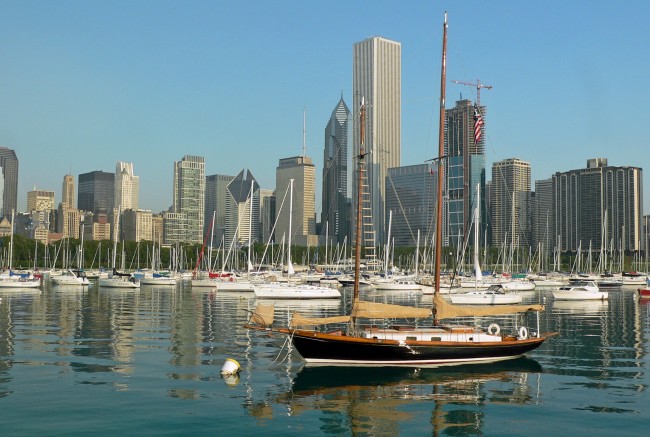 Racine An overall renovation plan for downtown Racine that includes a half-mile-long fishing pier, a festival park, monument parks, condo residences and total street reconstruction has remade the waterfront from what was once one of the largest industrial ports on the Great Lakes into the premier boaters' destination. Restaurants, shops, art galleries and museum, a modern library and an assortment of lounges with live music can be accessed via a reasonable walk from the waterfront; a few more in the harbor and on the Root River can be visited by dinghy or small boat. A 0.5-mile-long sandy beach north of the harbor is noted as one of the 10 cleanest in the U.S. Racine Yacht Club is noted for the annual 189-mile Hook sailboat race ("Death Door Challenge") and other regattas.
The largest marina in Wisconsin is Reefpoint Marina in Racine. The marina has over 900 quality floating slips, and most of the marina is 15 feet deep; the design of the breakwaters is such that even in the worst weather there are no swells in the docking area. An on-site restaurant and outdoor bar with Lake Michigan views, and a large pool with two spas round out the resort atmosphere. Several marinas in the area offer mechanical and haul-out service, parts and marina supplies, making this harbor the most complete destination on the west shore of Lake Michigan. For a complete listing of facilities in the area, consult the Great Lakes edition of the Waterway Guide.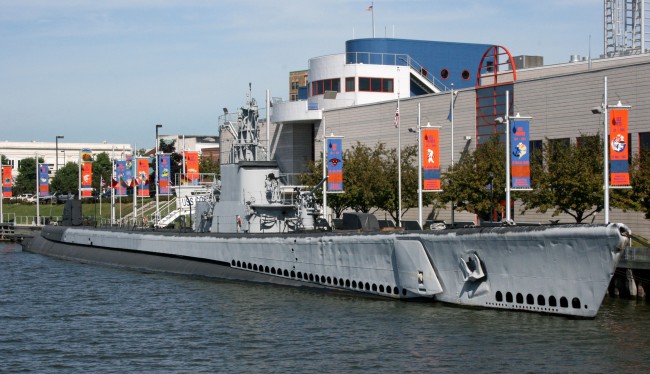 From Racine, you can sail 60 miles direct to Chicago and the entry to the river systems, or make one or more stops at Kenosha in Wisconsin, Winthrop Harbor or Waukegan in Illinois. Southport Marina in Kenosha has a pool, full marine sales and service dealers on site and is close to the fun downtown with great museums. All three harbors have full-service facilities and Metra Train service to Chicago. Better yet, make Chicago your next destination!
Bob and Carol Kunath have owned about a dozen sail and powerboats and have cruised extensively throughout Lake Michigan and the North Channel of Lake Huron. Both are Past Commodores of the Bay Shore Yacht Club in Illinois, and members of the Waukegan, IL and Venice, FL Sail and Power Squadrons. Bob has contributed to Latitudes and Attitudes, the USPS Ensign and Southern Boating and holds a USCG Master's license. Bob and Carol have been popular seminar presenters at Trawlerfest, U. S. Power Squadron, M. T. O. A. and America's Great Loop Cruising Assn. events, sharing their knowledge of Lake Michigan, the Great Loop and cruising.