Onancock sits in the center of Virginia's Eastern Shore and boasts a walkable town with rich history, eclectic artisans and incredible food. Onancock feels worlds away from the bustle of cities to the north and south of the peninsula.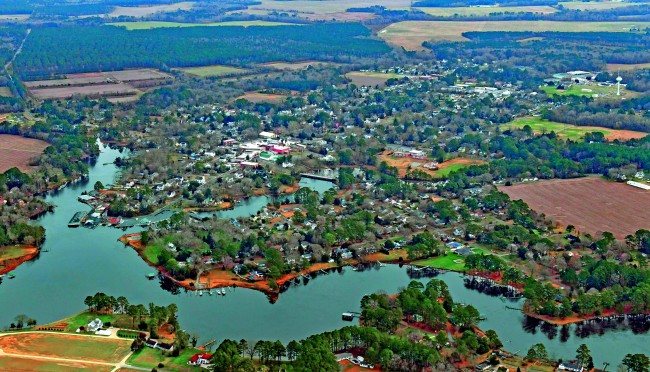 Like all Chesapeake Bay towns and communities, Onancock rests on a waterfront with tidal creeks and bays all around. A favorite destination of mine since first discovering it about 25 years ago while motoring the Bay, I have returned on my sailboat and numerous times by auto when exploring Virginia's Eastern Shore.
The six-mile trip up Onancock Creek by boat is a delightful unwind from the open water of the Chesapeake and provides ample time to reflect on the history of where you are headed. A nice harbor awaits and you should call ahead to confirm dockage and availability at the town marina and how many boats might be on the hook, if that is your choice. You may also reserve online at Onancock.com/Wharf.
However you arrive the town has plenty to offer if you are easy going and inclined to stick your head in shops and restaurants and strike up conversations. Bicycles are good ideas if you carry them with you. If not, there's a small outfitter that rents them (burnhamguides.com), as well as kayaks if you want to paddle and explore the creeks. The marina also has a courtesy car and golf carts for rent.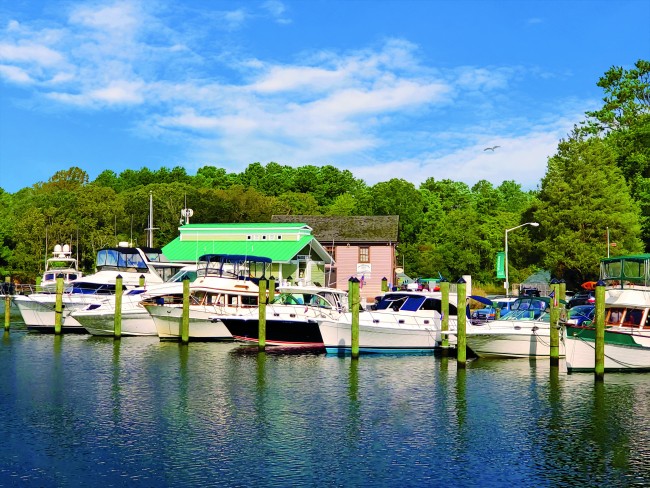 DESTINATIONS
As a Waterway Guide Preferred Destination, Onancock passes our test of offering boaters and visitors a pleasant tempo and tangs of nautical heritage. Spend a few minutes looking into the town's past and the role that it played during the American Revolution. As one of this country's oldest communities it has a serene and rich history. It was founded in 1680 as Port Scarborough and the town's galleries offer special insight and art befitting the settlement's legacy. Take time to explore them.
History, art and restaurants make Onancock a central point of interest on the Shore. You will want to forage for a favorite café or bistro that fits your fancy while you explore the shops and galleries peppered through town. Even the former high school has been converted into artisan studios. Some of our favorite restaurants are Janet's Onancock General Store, Bizzotto's, Blarney Stone Pub, and Corner Bakery.
Walk the quiet side streets along the meandering North, Central and South Branches of Onancock Creek and reflect on the years when the Baltimore, Chesapeake and Atlantic Railway company's steamship made a stop at the wharf to discharge and pick up passengers, cargo and mail; a time when steamers connected hundreds of waterfront communities of the Bay. The distinct whistles of each vessel were known to all. The wharves they laid up to have largely disappeared, but the locations remain on charts, street signs and communities such as nearby Poplar Cove, Finneys, Harborton, Davis Wharf and Nandua.
If arriving by land and planning a getaway of a few days consider local inns and B&Bs including Maurice, the Charlotte Hotel, The Inn at Onancock, and Spinning Wheel B&B. They are close to the waterfront if you're weary of the V-berth or have guests joining you.
Virginia's Eastern Shore, known also as the Delmarva (Delaware, Maryland and Virginia) Peninsula, is a world away from the bustle of metropolitan Hampton Roads, yet is only a 20-minute crossing via the Chesapeake Bay Bridge-Tunnel.
You leave the traffic behind as soon as you're on the 17-mile bridge. Motor north another 50 miles on Route 13, turn left and you're in Onancock. From points north, it's an easy drive down Routes 50 and 13 from Annapolis, MD or Dover, DE.
Onancock is a long day's journey by sailboat at an average of 6 knots from most bayfront points to the west from Virginia's shores. If you leave from Hampton Roads choose a mid to slack tide for best speed over ground. Note that it's 60 n.m. NNE from Old Point Comfort, so allow plenty of time if you want to arrive during daylight hours. There are not many options for overnight anchoring or marinas north of the town of Cape Charles if you can't make the crossing.
From recognized anchorages and marinas to the west, north or south in Virginia, though, the journey is less distance than from Hampton Roads harbor and is a good day's sail. Be advised that weather is always a factor on Chesapeake Bay.
While the distance from Annapolis is over 90 n.m., there are ample opportunities to stop in locations along either side of the bay as you make your way south if that is your departure point and you want to break up the trip.
Onancock is at latitude 37º 43' and situated at one of the widest points of the Bay, which provides ample distance for fetch from all directions except NE through SE. Plan accordingly and remember that weather forecasts for land interests seldom convey what you will experience on the Chesapeake Bay. Be prepared for afternoon thermal activity (sea breeze) in warmer months that often causes chop that small powerboats may find uncomfortable and that will impact progress. Sailors will appreciate the lift, but summer thunderstorms are bane to all. Be prepared, know your vessel and your personal limits. Use Explorer at waterwayguide.com to plan your trip and research the details. You will find marinas, navigation alerts, weather forecasts and anchorage listings as part of the online resources.
Onancock has been a favorite stop for the Waterway Guide team for many years. The trip and destination have always been worth it. We hope to see you there. By the way, pronounce it oh-NAN-kok.