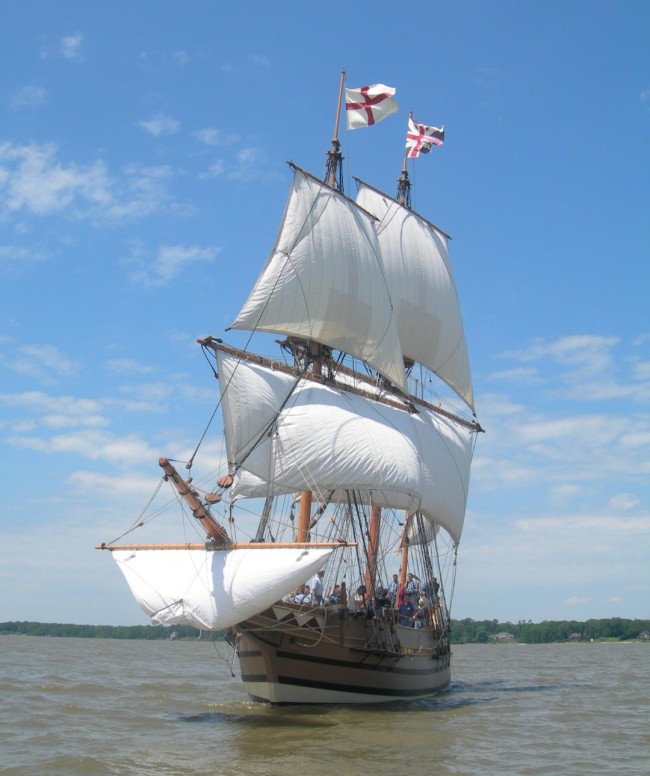 Sailors, it's not too late to join the Fall Classic Turkey Shoot Regatta, in support of local Hospice programs, to be held from Sept 29 to Oct. 1 on the Rappahannock River just above the Norris Bridge. An attractive local event—the largest such regatta in the Southern Bay, with as many as 142 lovely sailing vessels registered one year--this will be hosted by the Rappahannock River Yacht Club (RRYC), at 100 Rappahannock Rd., Irvington and co-sponsored again with the Yankee Point Yacht Club, with registration open at Yachtscoring.com and additional information at turkeyshoot.org.
To add to the beauty of the sailing fleet, once again the Jamestown Settlement's SV Godspeed will join the regatta compliments of the Jamestown Yorktown Foundation. She is an authentic replica of one of the three boats that brought the first permanent English settlers to the Jamestown, VA colony. And another historic ship berthed in Deltaville, the Luna, a replica 48 ft. Virginia sloop of the Colonial Seaport Foundation (colonialseaport.org) will also visit. Best seen from the water, these two handsome sailing vessels will not be able to be open to the public during this visit.
With this regatta open to classic sailing monohulls of a design older than 20 years, from 18 ft up, spinnaker and non-spinnaker, this should again be a colorful fleet. For ticket and information go to Yachtscoring.com, 2023 Hospice Turkey Shoot Regatta/competitor information. For other race information, contact regatta co-chair Tom Chapman at [email protected] or 804 577-3202. Additional information may be found at turkeyshoot.org and rryc.org.
The weekend event starts with check-in and a welcoming cocktail party with heavy hors d'oeuvres and music on Friday evening Sept. 29, 5:30 to 7:30, $20 per person plus a cash bar. The first race begins on Saturday Sept 30, at 1100 with a dinner at 6:00PM @$25 per person with a cash bar. On Sunday Oct. 1, the second race begins at 10:30 AM with the awards ceremony and refreshments after the race back at the tent at RRYC, beginning at 2:30 PM, everyone welcome.
Plan and check the rryc.org web page: due to limited parking on the RRYC site, alternate parking and shuttles will be available.
This regatta, dating from 1991, continues to be a major contributor to Hospice Support Services of the Northern Neck and Riverside Hospice Agencies of Tappahannock and Gloucester.