The Georgia Department of Transportation has revised it's work schedule and plan for demolition of the Causton Bluff Bridge at Mile 579.9 on the Wilmington River following a stakeholder meeting on September 21, 2023.
The new schedule will accommodate varied opening and closing times to allow more liberal passage and transit of commercial vessels and pleasure craft.
This graphical depiction of the schedule serves as a supplement to the Georgia Department of Transportation (GDOT) / United State Coast Guard (USCG) description of the new schedule. While this is not an official GDOT document, it has been reviewed by GDOT for accuracy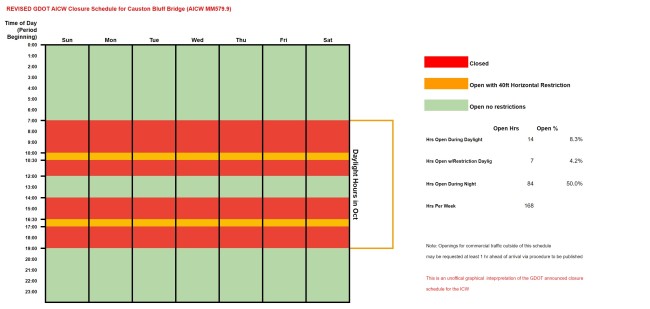 Graphic developed by Ted Arisaka
Boating groups, commercial interests, and representatives from various agencies queried USCG and Georgia Department of Transportation officials during a virtual meeting on September 15 and 21, 2023, expressing concerns about the work schedule due to the number of hours and days that the AICW would be closed. The revised schedule is the result of all stakeholders agreeing on the most appropriate courses of action for the construction work and allowable transit times through the channel at the bridge.
Use this link in the Waterway Guide online portal for the latest updates from USCG. Causton Bluff Bridge at Mile 579.9 on the Wilmington River
The USCG Marine Safety Information Bulletin can be viewed with this link: https://homeport.uscg.mil/Lists/Content/DispForm.aspx?ID=82369&Source=/Lists/Content/DispForm.aspx?ID=82369