The publication of this book, Waterway Guide's 2023 edition of Northern, is a highlight of my new adventures in self-employment.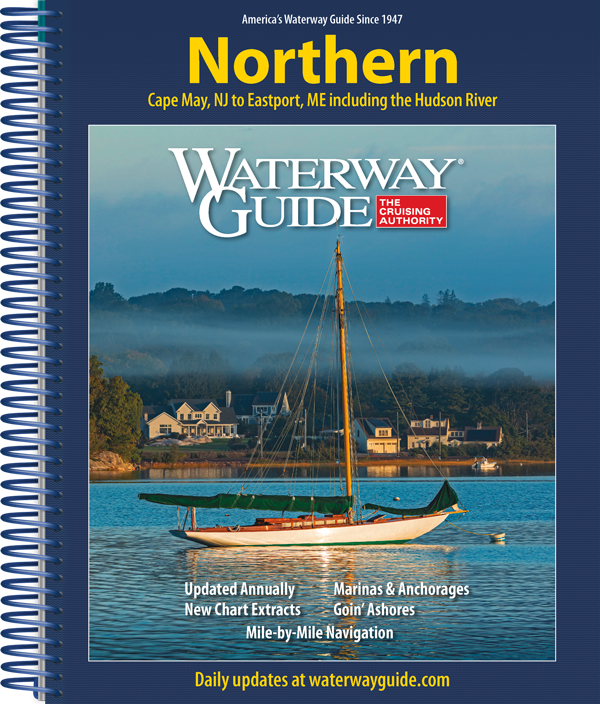 Serendipity best describes how I wound up as a contributor. In the fall of 2022 I had gone back to the Annapolis Sailboat Show by myself for a second day, having made all the rounds with Peter earlier that weekend. I wasn't even certain why I was back there again. Except that I had taken an inspiring class with the indomitable Lin Pardey wherein she taught us about writing, blogging, and vlogging as ways to earn income while cruising and traveling. And prodded by her encouragement, I followed up on my self-assigned action item, talking to every one of the boat-related publishers about what kind of content they need and how to submit stories.
My secondary mission was to find the NOAA booth and tell them about a charting error. NOAA is the government agency responsible for collecting and providing all weather, climate, and nautical charting data for free to third-party vendors who create applications and other resources. I was tapping away at my iPad with two of the NOAA reps, annoyed that the Sharps Island Lighthouse — a huge, abandoned light at the mouth of the Choptank River in the Chesapeake Bay, which we nicknamed "Cattywampus Light" because of its tilt due to ice damage — has no label or description in their new and evolving ENC vector-based charts, when who walks up but Ed Tillett, Editor-in-Chief of Waterway Guide. I'd met Ed in an earlier class he taught about weather forecasting apps, and I knew we think the same way about nautical applications – they're only as good as the data that feeds them, and vastly differ in their implementation. Ed grasped the details of my complaint, and was clearly amused that I was boldly bending the ears of those poor NOAA staffers about the beleaguered lighthouse.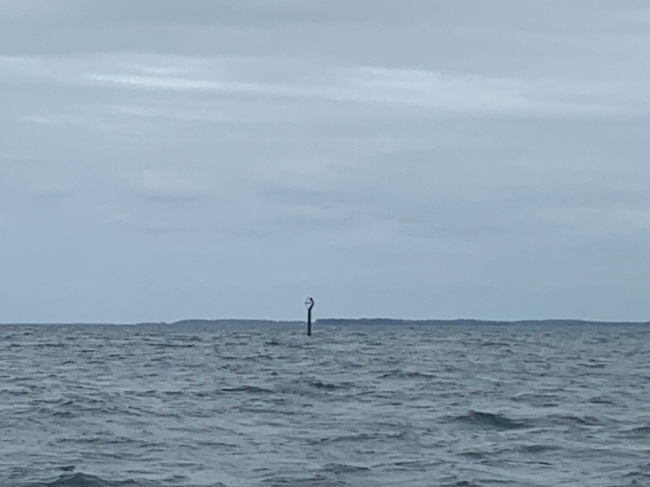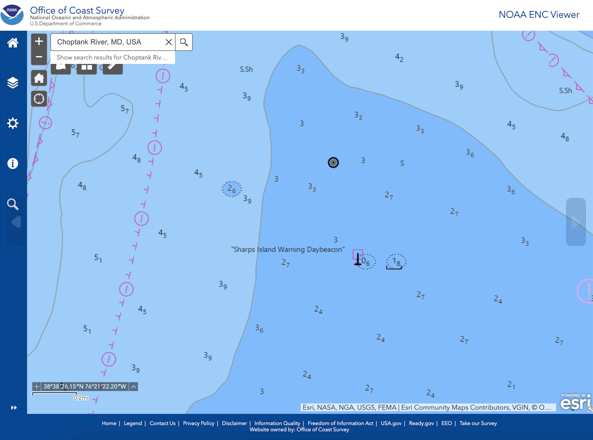 Ed and I talked later that day. What started as a nerdy conversation that went down the rabbit hole of nautical charting apps and their pros and cons, eventually ended in Ed asking me "What are you doing these days? I might have work for you." I replied that I was freelancing, though the truth was I had just quit the full-time corporate world and was fumbling around trying to piece together enough part-time gigs to afford my mortgage and COBRA health insurance payments (come to think of it, yeah, that's a pretty accurate glimpse of "freelancing"). Ed explained that Waterway Guide updates their content annually. The painstaking work is done by a team of editors each responsible for their own piece, be it anchorages, dockage/moorings, cautions/alerts for hazards, or height and opening schedule of all drawbridges. The area that needed my attention was Navigation. Navigation sections describe how to best pilot a boat to many of the resources listed, using aids to navigation (ATONs) and other info on nautical charts. My mission, should I choose to accept it, would be to validate and fact-check all Navigation paragraphs using the best and most recent charts available, cross-referencing between resources as necessary. It would be "armchair" navigation, given that I can't physically take a boat along the entire route described in one of their books. (Waterway Guide does employ Cruising Editors, who may contribute actual ground-truthing from their boats, but realistically they can't cover all their territory every year… especially not in time for a press date.)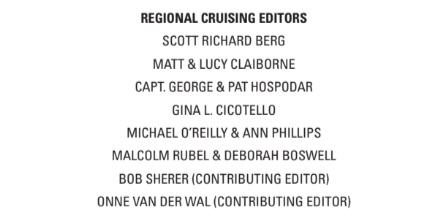 As our long conversation came to a close, Ed also shared that he wasn't altogether sure why he came to the show that day, but that bumping into me revealed the purpose. We exchanged contact info and agreed to talk about how I could help Waterway Guide.
The Northern guide, which describes the U.S. eastern coastline from Cape May, NJ all the way to Eastport, ME, was my first assignment. Ed and I used chapter 1 to test out our workflow and editorial logistics, and a couple months later I'd finished all 17 chapters. In the process of validating Navigation text, and discovering more charting errors in the process, I've now established somewhat of a rapport with NOAA. In their herculean and mostly manual effort to convert the old raster charts to vector-based data, mistakes can happen, so they are both gracious and grateful to anyone who discovers and communicates them. (Clue: Use the NOAA Assist tool and give them accurate location and as much detail as possible.) As that project went well, it's now official….
I've been named the Navigation Editor for Waterway Guide. It's even more fun than the day my name first appeared in the masthead of National Geographic Magazine.
The other story worth telling is how I became enamored of the stunning wooden sailboat on the cover of Northern. As I was finishing up work on the last few chapters, I got an email from Ed asking for feedback, with an attached conceptual cover image. A sleek sailboat with a spruce mast sits placidly on a mooring ball in front of a classic New England coastline. I couldn't stop staring at her, nor did I resist zooming in on her stern attempting to make out her name. **-O-R-I-T-A. Who is she?!? My eye for spotting a Herreshoff was twitching. Google helped me with photos of a boat called AMORITA, and as I compared her lines and details to the cover image, I thought I'd found the answer.
I replied, "Is she AMORITA, who crashed and sank while racing in 2007? Such a fitting cover photo for this book."
Ed went off to find the name of the boat, which was soon confirmed by Onne van der Wal, who was both a Contributing Editor for the book and the Photographer who shot the photo of AMORITA. Next thing I know, I'm copied on an email thread to AMORITA's owner and skipper, getting his permission to use the photo on the cover.
AMORITA's story is a heartbreaker. She's still around having being built almost 120 years ago. But only after being recovered from the bottom of Narragansett Bay as a result of a tragic collision. During the Robert H. Tiedemann Classic Yacht Regatta in 2007, three boats were attempting to round a racing mark off Beavertail Point in Jamestown, RI. The largest of the three, SUMURUN, was fast overhauling the two smaller boats clearly ahead, and attempted to cut inside in order to pass the other boats. SUMURUN collided with both ALERA and then AMORITA, and AMORITA sank within a minute.
The following excerpt is from the official civil action filed against the owners of SUMURUN, describing the vicious negligence:
SUMURUN struck AMORITA broadside causing AMOIRTA to sink and her crew to abandon ship;
After the collision, AMORITA was held afloat, below the surface of the water, by her rigging which was fouled on the stem of SUMURUN;
SUMURUN did not render aid to the crew or to the vessel, rather, without permission from AMORITA's owner and without even placing a line on AMORITA to mark her location, SUMURUN cut AMORITA away sinking her to the bottom of Narragansett Bay.
Onne van der Wal was shooting the 2007 race from another boat when AMORITA was t-boned and executed the mayday call. Subsequently, she was salvaged from the bottom and taken to Mystic, CT where she received a complete, meticulous restoration by Andy Giblin of McClave, Philbrick & Giblin (MPG). Andy had been AMORITA's caretaker for nearly 20 years. Meanwhile, the race committee conducted an extensive investigation and found that SUMURUN breached the Racing Rules of Sailing and was thereby guilty of causing the collision. SUMURUN was sold to cover the costs for all damage to the boat and her traumatized crew.
This jawdropping tale seemed in stark contrast with the photo of AMORITA sitting peacefully on her mooring. Realizing it was impossible to feature this boat without revealing her background, Ed wrote a lovely piece "About the Cover" that was placed in the frontmatter of the book.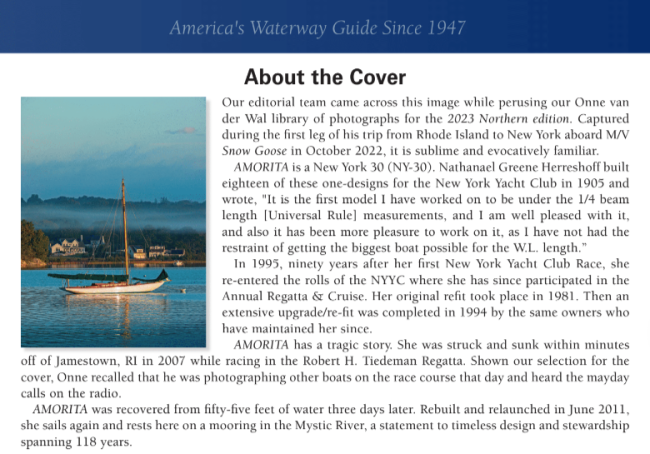 If you, like me, can't look away from this story, take the time to watch a documentary called Amorita's Unlucky Day, free on Vimeo. Be warned that there's dramatic footage of a violent crash, grown men in tears, and events that cause the saltiest of sailors to quit the sport for good.
This is my job now. Pinch me.
Follow along with Gina's adventures on her blog, "Lifelong Walkabout" at https://ginacico.wordpress.com/