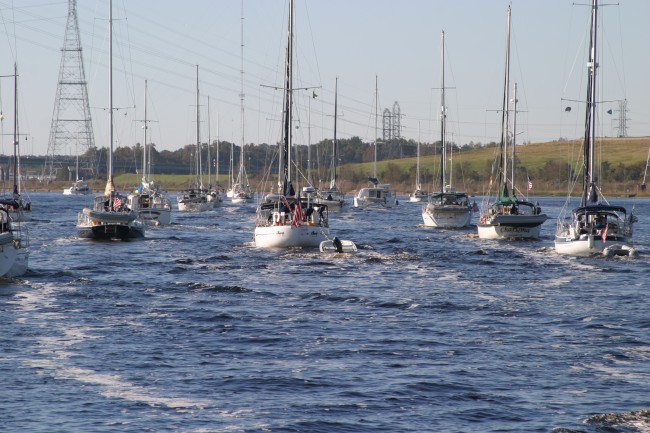 When Mile Zero of the Atlantic Intracoastal Waterway (AICW) was designated at a point in the harbor between Norfolk and Portsmouth, VA decades ago, there were few bridges and minimal industry and traffic along and across the navigable channel. Today, a boater must pass under eleven bridges and transit a set of locks in 20 miles. Four of the bridges offer sixty-five feet or more of clearance. Several of the railroad bridges stay in an open position until needed. The remaining bridges operate on various schedules based on time of day and prevailing automobile traffic conditions. If you are moving north or south on the AICW, the passage will vex and frustrate you.
That stretch of the AICW never seems to be a trouble-free ride. Repairs associated with the Norfolk Southern #7 Railroad Bridge last year stranded numerous vessels on both sides. Delays in construction, arbitrary closings, and mismanagement of the operations contributed to safety concerns for skippers, logjams in area marinas, and frustration all around. As Bob Sherer, Waterway Guide contributing editor said, "When that bridge schedule was finally back to normal, we all breathed a sigh of relief. But we found that relief to be short lived."
For the spring migration of thousands of boats headed north in 2023, the first challenge has been a power outage at Great Bridge Lock. The locks were closed for several days in early April, stacking up boats on both sides of the locks. Pleasure boats with a draft of less than 6 feet have the option of taking the Dismal Swamp canal route but deeper draft boats are out of luck. Due to an electrical infrastructure malfunction at the Great Bridge facility, the lock is being operated on generator power.
Beginning April 20, 2023, at 0600 and until permanent repairs can be made lockings will occur every other hour (12 lockings per 24-hour period). The times are 0000, 0200, 0400, 0600, 0800, 1000, 1200, 1400, 1600, 1800, 2000, 2200 EDT for northbound vessels, and twenty minutes later for southbound vessels. There has been no estimate when the electrical problems will be corrected.
As if that wasn't enough, the Coast Guard announced on Wednesday, April 12, 2023, that the Gilmerton Bridge will have major opening restrictions for repairs from April 14 through May 15. Through that time period, the bridge will not open on weekends except for openings at 7:00 am and 5:00 pm. Boaters must plan on transiting the area during a weekday or at 7:00 am or 5:00 pm on weekends.
Given the challenges of transiting north or south around Diamond Shoals off Cape Hatteras using an ocean route to skirt the AICW through Norfolk, few vessels attempt the outside route. It's simply too dangerous for most pleasure craft, and most commercial vessels. Waterway Guide Media's leadership participates in USCG meetings and committees to assist in the decision processes associated with granting permission to close bridges and adjust schedules, but there appear to be few solutions for managing maintenance and construction for the structures that cause delays. There are so many variables and few options. Bridges that move break down. Trains and autos must pass. The only option for vessel owners and operators is to remain aware of the ever-changing schedules and be prepared to adjust. Click here for a geographical view of the affected stretch of the AICW showing bridges and schedules.
As you plan your passage through the Norfolk area, be sure read the Waterway Guide navigation alerts so you know what to expect. You just want to get to your home port with as little drama as possible so be sure to review all Waterway Guide Alerts for the area - we keep track of all these changes for you so your passage has less surprises at bridges and locks. Good luck getting through on time and on schedule.