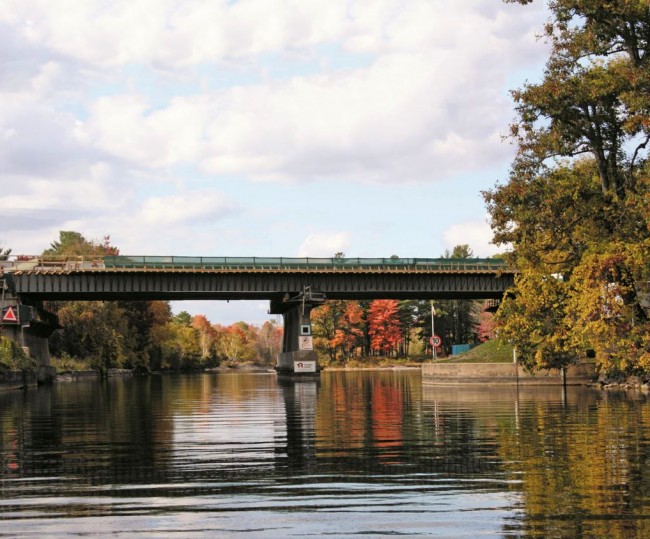 I have lived in Ontario my whole life but have only recently had the pleasure of visiting the City of Orillia, even though I have passed a stone's throw away from there probably more than 1,000 times while en route to a cottage via Hwy. 11. (Of course, I always stop at Weber's for a burger and fries.)
Orillia was founded in 1867, incorporated as a town in 1875 and as a city in 1969. Singer-songwriter Gordon Lightfoot and Sir Sam Steele of the North West Mounted Police originated from Orillia. Orillia also boasts the first hydroelectric transmission plant in North America, printed its own money (in 1936) and was the first municipality to introduce daylight saving time. Orillia is a place full of surprises.
The City of Orillia is a city of 31,000 people in the heart of Ontario's Lake Country, located right on the shores of Lake Couchiching and Lake Simcoe. From the minute I landed there, I was seduced by scents of home-baked goods accompanied by live jazz being performed on the streets or in nearby watering holes. Admittedly, I had no pre-conceived idea about Orillia, but the main street enveloped me with charm and friendly retailers, and I was already wishing I could stay longer…or perhaps plan another visit.
Every year, thousands of boaters dock here during the summer to enjoy all that Orillia has to offer. And the choices are endless and diverse. They say Nashville is the Music City, but I'm not so sure Orillia isn't a contender for the title. Several venues in town and along the waterfront (including the free Sunday evening band concerts) offer music, entertainment and theatre to whet most people's appetites.
For some, the Port of Orillia is a final destination. For many others, it is a lovely spot along their way through the historic 386-km Trent-Severn Waterway.
The Trent-Severn Waterway is made up of 44 locks, numbered 1 to 45, scattered along its 386-km route. Locks 28 and 29 were combined in 1968. The waterway opens in mid-May and closes after Thanksgiving. Bridges and locks along the canal portion operate from 9:00 a.m. to 7:00 p.m. in high season but it is always good to check the hours before heading out. When approaching a lock, you'll see a blue line painted along the wall indicating where to tie up while waiting. If you choose to stay and explore, you may tie up but avoid camping out on the blue line.
The controlled clearance through the Trent-Severn is 20 feet. The controlling depth is 6 feet. Water levels do vary throughout the season and from year to year, so if you have a draft of more than 5 feet, contact the Trent-Severn Waterway office. You may have to sign a damage waiver.
To get to the Port of Orillia from Balsam Lake in the east, boaters must pass through Locks 37-41 (37-Bolsover, 38-Talbot, 39-Portage, 40-Thorak and 41-Gamebridge) to access Lake Simcoe and Lake Couchiching. A potentially interesting crossing up Lake Simcoe–which can be notably rough at times–and through the Atherley Narrows will have you heading right to the Port of Orillia. There are several marinas along the way offering transient slips should you need gas, a pump-out service or the need to explore.
Heading east from Georgian Bay, you pass through Locks 45-42 (Lock 45-Port Severn, Lock 44-Big Chute Marine Railing, Lock 43-Swift Rapids and Lock 42-Couchiching). From Lock 42, once leaving the canal, head south, then west to Port of Orillia. Make sure to stay within the designated markers whether coming or going. There are several of them. No matter how you arrive, however, the new Port of Orillia will be ready to welcome you. The new building, designed by Brook McIlroy Architects, will offer private washrooms and showers, as well as laundry facilities and a reception area for visiting boaters.
Orillia's waterfront offers picnic spots and beautiful trails.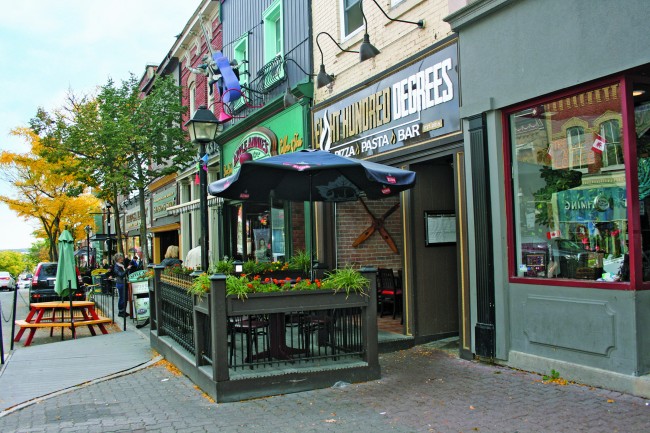 Downtown Orillia is a short walk away and on any given day in the summer, you will likely discover some great entertainment. In addition to the many street events such "Streets Alive!", check out the Orillia Community Church and the Orillia Opera House (built in1895), which has featured numerous famous artists, including Orillia's hometown boy Gordon Lightfoot. The popular Casino Rama is also nearby.
The Port of Orillia is host to the Spring Boat Show, Christmas in June and the Orillia Waterfront Festival, all attracting visitors and boaters from afar for great music, food and shopping from local artists, artisans and nearby vendors.
Provisioning in Orillia is easy. Grocery stores, liquor stores and bakeries are all easily accessible, as well as a variety of shops selling clothing, toys and likely the perfect souvenir (or two).
Whether you stay for the day or a week, I promise you that each day will offer you another charming surprise.
###
Elizabeth Ann Kerr is the Executive Director of the Travel Media Association of Canada. She is also the former President of Kerrwil Publications Limited, former publisher of Canadian Yachting Magazine and Boating Industry Canada. She is also an avid sailor and consummate traveler.