Have you ever thought it would be a great idea to build a boat all on your own? If you have then Ethan Gibson, age 36, who lives in Kimball, Michigan (near Port Huron) is about to become your hero. We are going to be following his journey as he builds a boat to ply the Great Lakes. If you're a Great Lakes sailor, then stay tuned because Ethan is also seeking your advice.
As is true of many recent tales of someone taking on a life-long dream this one began with the pandemic lockdowns.
"The idea was there since 2015 but the pandemic was when I was like, 'Yeah, this is it,'" Ethan tells Waterway Guide in an exclusive. "I've never built a boat before but I'm pretty handy. I've built a lot of stuff. Back in 2015, I was on the Oregon coast with my wife where the guy used the boat he built to get the catch of the day. So I was thinking, 'Wow! What does it take to build your own boat?'"
Ethan, who was a government employee in Florida, is now the Public Relations Director for Southerby's Cars, moved home to Michigan shortly before the pandemic began.
"I was in law enforcement and I grew up around boats, always had boats," he explains. "I was a vessel commander for DHS border patrol ran safeboats similar to the ones that you see on the ICW run by the USCG all the time. I was trained down in St. Augustine and posted all over the country."
Ethan went to Spira Boats: Easy-to-Build Boat Plans by Spira International.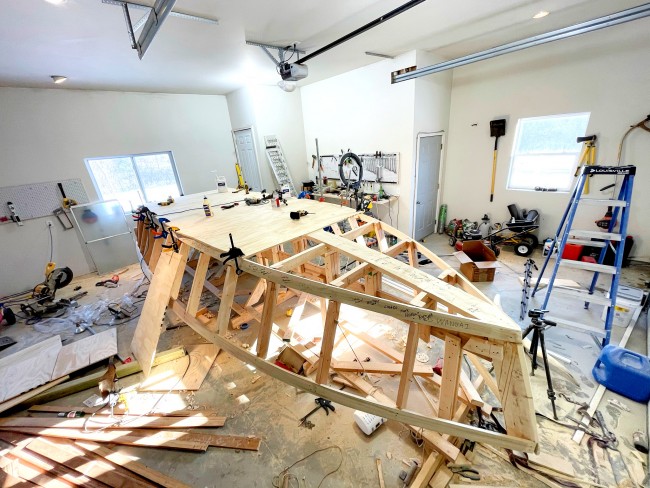 The boat Ethan has chosen to build is an Albion Pacific Power Dory that is 19-feet long and 8.5-feet wide. It's wide and flat with gunwales around 24-inches. It's rated to carry up to a 120 hp outboard motor.
While some of the materials are being sponsored by TotalBoat, Bristol, RI, he is hoping for a motor sponsor for a 100 hp outboard.
What moved TotalBoat to sponsor Ethan?
According to Social Media / TotalBoat Tech Coordinator Megan Meyer, "TotalBoat enjoys collaborating with a wide variety of content creators across various social media platforms. I happened to stumble across one of Ethan's early TikTok videos describing his project and saw a great opportunity for us to work together."
Meyer adds that after exchanging some emails back and forth, "I knew it would be a great partnership as TotalBoat strives to create products to help out the 'DIYer' community just as Ethan is doing."
"I think one of the most exciting things was when Mercury Marine recently started following my videos," Ethan said. "I'm amazed at how many people are watching me build this boat. TotalBoat is funding a lot of the project. We're not crying poor or anything, but building your own boat is no small thing financially."
Ethan adds, "I'll name the boat after the company that provides the motor."
"A lot of people say 'oh it's not safe you're gonna die,' but I've done a lot of safety maneuvers and have a lot of experience with safety," he says.
How did Ethan find Spira? "I Googled it," he said. "If you know basic woodworking you can build a boat. I bought the plans one night back in 2015 but then never started. Then the pandemic hit, and I finally moved home and now have the space for it. We have a little house on Lake Huron, and I want to take the boat across the Great Lakes."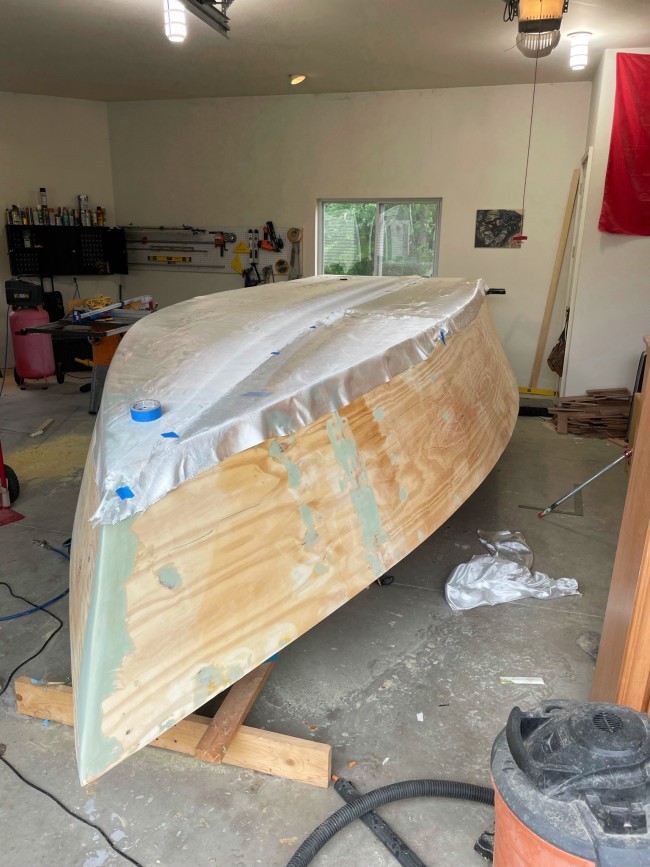 Ethan adds, "I'd love to do the Great Loop but I'd need a bigger boat, I think. This summer I want to take it up 170 miles to Alpina then next summer go from Alpena to Traverse City, MI, and then to Chicago, IL.
Ethan has become well known on social media as viewers on TikTok, some 350,000 followers, cheer him on, riveted by his daily efforts which he also chronicles on YouTube.
The boat is named "The Fighting Sister" after his two little girls, Dahlia, age 8, and Genevive, age 5. His wife, Jade, is also on board with the mission.
"My wife is my best friend," says Ethan. "We've been together since age 15, but I've been neglecting house projects. She's waiting for me to finish the boat so we can redo the bathroom."
TotalBoat offers this advice to anyone interested in following in Ethan's footsteps:
"Never say Die' and I believe that can apply to someone embarking on a boat build," Meyers says. "Don't be afraid to make mistakes, it's a part of life, and under no circumstances should you give up! Even the 'pros' make mistakes every day and the most important thing is to get back up and try again. There are so many great communities on websites and Facebook for groups of people building boats. They are great resources to look into if you experience any issues along the way."
Ethan concludes, "At this point, I would welcome advice from your readers who have either undertaken this kind of project or who are familiar with where we will be sailing."
This first voyage will be a trip with a buddy because at one point they will be crossing 35 miles of open water across the Saginaw Bay and Ethan says, "I don't feel comfortable taking little girls and my wife in such a small boat. If anyone has advice on that I'm totally open."
Send your advice to [email protected] and please put "For Ethan Gibson" in the Subject line and we will relay it to him.